(CNN) -- Voters in Nashville, Tennessee -- a city that has seen a dramatic increase in its immigrant population -- rejected a measure Thursday that would have made English the only language used for government business in its metropolitan area.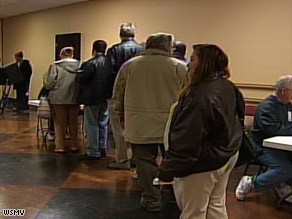 Nearly 57 percent of those who cast ballots Thursday in Nashville, Tennessee, voted against the measure.
With all 173 precincts reporting, 41,752 voters, or nearly 57 percent, voted against the proposed amendment, with 32,144 voters supporting it, according to unofficial results posted on the Nashville city government Web site.
"No person shall have a right to government services in any other language," the proposal read.
The measure would have included government meetings.
The Metropolitan Council, which submitted the measure, could have mandated exceptions to protect public health and safety.
Elise Shore, southeast director of the Mexican-American Legal Defense and Educational Fund, said her regional office in Atlanta, Georgia, was monitoring the Nashville balloting.
"We just elected our first black president. There are the forces of globalization and conducting business around the world ... in the face of this, we see these measures?" Shore asked.
The proposal "sends a strong message ... this is a negative message. In fact, it invites discrimination," she said.
Don't Miss
In a newspaper editorial published Thursday, The Tennessean urged voters to defeat the proposal.
"This amendment would exclude and marginalize those residents and visitors to Nashville simply because English is not their native tongue," the editorial said.
The polls opened at 7 a.m. and closed at 7 p.m.
Before the measure was defeated, a spokesman for U.S. English Inc., an action group that supports English-only laws nationwide, said the Nashville proposal was a good one.
"Government programs are aimed at helping people reach self-sufficiency and success," Rob Toonkel said. "Allowing use of a second language doesn't encourage them to learn English."
"The key word [of the amendment] is 'actions that bind the government,' " Toonkel said, which would cover transactions such as getting a city contract.
If a non-English speaker needs help filling out a form, and someone in that agency speaks their language, they should be helped, he said. "But you shouldn't be able to come in, pick up a form [in another language] and leave."
According to Toonkel, about 30 states and more than 100 localities have made English their official language, and he said his organization believes such laws are legal.
Raul Gonzalez, legislative director for the National Council of La Raza, said the message of the proposal is discriminatory.
"What it ... says is, 'If you speak a language other than English, you may not be welcome here,' " Gonzalez said.
La Raza is a nonprofit, nonpartisan organization focused on reducing poverty and discrimination and improving opportunities for Hispanic Americans.
Gonzalez said similar English-only laws across the country "have so many exceptions they are meaningless."
In an editorial earlier this month, The Tennessean quoted the referendum's sponsor, Councilman Eric Crafton, who said the bill was needed to save the city $100,000 to $150,000 in annual translation and related costs.
However, metro officials told the newspaper such services are provided by employees already on the city's payroll.
The council passed a similar bill in 2007, but it was vetoed by then-Mayor Bill Purcell, who called it "unconstitutional, unnecessary and mean-spirited," according to The Tennessean.
U.S. Census data from 2000 showed an increase of 210 percent in the immigrant population of the Nashville metro area, including Davidson County, since 1990. During that decade, immigrants accounted for 45 percent of the overall population increase in the city.
More than two-thirds, or 67 percent, of the area's foreign-born population had entered since 1990. This was much higher than the rate for the state overall, which was about 58 percent.
The Census Bureau's American Community Survey, taken between 2005 and 2007 for the Nashville metro area, shows a population of 613,632. Of that number, 61,843 were foreign-born, with most of the immigrants coming from Latin America.
About 73,000 residents speak a language other than English at home and, of those, 35,290 speak English less than "very well," the survey found.
E-mail to a friend

All About National Council of La Raza • Nashville • English Language