By Paul Steinhauser
CNN Deputy Political Director






WASHINGTON (CNN) -- A new national poll suggests that a majority of Americans think it will take the country two years or longer to recover from the current recession.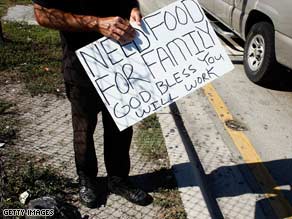 Unemployment is the most important economic issue for Americans, according to a new poll.
Only 13 percent of those questioned in a CNN/Opinion Research Corp. survey released on Wednesday think the economy will recover within a year. Twenty-seven percent think it will take up to two years and 59 percent feel it will take two years or longer to recover from the current recession, which has already lasted 13 months.
"Barack Obama said in his inaugural address that the country's problems will not be solved in a short span of time, and Americans are getting the message," said CNN polling director Keating Holland.
CNN senior political analyst Bill Schneider thinks the public's initial judgment on how President Obama is handling the economy will come in 2010 during the midterm elections.
"The final grades from the public will come in four years, when we expect Barack Obama to run for re-election. That's when a solid majority expect to see results on the economy," Schneider said.
The poll indicates that half of Americans still think the economy is in very poor shape. That number dropped 16 points from 66 percent last month.
"That doesn't mean the public thinks the economy is in good shape. Most of those people have just moved from the 'very poor' category to the 'somewhat poor' category," said Holland.
The economy remains the top issue by far, with 74 percent of those questioned saying it's the most important issue facing the country today. The war in Iraq is a distant second at 8 percent.
What's the top economic issue?
Don't Miss
"Americans overwhelmingly say unemployment. Half say bringing jobs back is job No. 1 for the new president. The federal budget deficit ranks second with only 15 percent," Holland said.
Home mortgages were the only other economic issue that cracked double digits in the poll.
Obama, in his first full day in office, is expected to meet Wednesday with his economic team. The proposed $825 billion stimulus plan to pump up the economy is on the agenda.
CNN/Opinion Research Corp. poll numbers released Sunday indicate that nearly six in 10 Americans support an increase in government spending to rev up the economy, and suggest even higher levels of support for a plan that also involves tax cuts.
Fifty-eight percent of those questioned said they favor increased government spending to stimulate the economy. Four in 10 of those polled opposed increased spending of taxpayer dollars.
If tax cuts for individuals and businesses are added to the package, support for the stimulus plan jumps 13 points, to 71 percent, and opposition drops 12 points, to 28 percent.
"Barack Obama's plan to reach out to Republican members of Congress with a tax cut component to his stimulus package seems to be working with the GOP rank and file," said Holland. "Most Republicans nationwide oppose a stimulus plan that only has increased spending in it. But support for a stimulus plan with tax cuts climbs to 70 percent among Republicans."
The package to stimulate the ailing economy is a top priority for Obama. Democrats in the House of Representatives last week unveiled their version of the economic recovery package, which would cost $825 billion. Their plan would include $275 billion in tax breaks and $550 billion in spending.
"Americans think that tax cuts would do more to help the economy than government spending, although they may not be right about that. Only one in five say that they would spend the money from a proposed $500 tax cut, while most say they would save that money or use it to pay off bills," Holland said.
Only a third of those questioned say the government should run a deficit when the country's in recession, with 65 percent saying Washington should balance the budget even when the nation's in a recession and is at war.
"Americans always worry about the deficit. It doesn't always mean they're willing to do much about it. In the months following the 9/11 attacks, it was one of the few times we've ever seen voters willing to say they're willing to have the country run a deficit. It looks like that crisis was bigger than this crisis," Schneider added.
The CNN/Opinion Research Corp. poll was conducted January 12 to 15, with 1,245 adult Americans questioned by telephone. The survey's sampling error is plus or minus 3 percentage points.
E-mail to a friend

All About Barack Obama • National Economy