By Mark Preston
CNN





WASHINGTON (CNN) -- Sen. Norm Coleman began packing his Capitol Hill office Wednesday, but said he has no intention of giving up his legal fight to serve another term in Congress.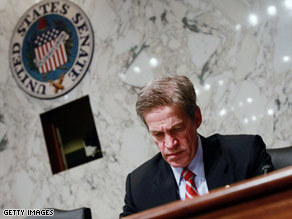 Minnesota's Norm Coleman predicts he'll be back in the U.S. Senate after his legal battle.
Coleman, a Republican from Minnesota, trails Democrat Al Franken by 225 votes. But in an interview with CNN, Coleman claimed Franken's lead was "artificial" and expressed hope that the Minnesota courts will rule in his favor on ballot disputes when a court hearing begins next week.
"I really do have a sense of confidence that this will work itself out the right away," Coleman said.
Franken, the comedian-turned liberal talk show host, was also on Capitol Hill on Wednesday meeting with Senate Majority Leader Harry Reid, D-Nevada, "to discuss the legislative agenda, especially the economic stimulus" plan, a Reid spokesman said.
Back in Minnesota, lawyers for the two men met with a three-judge panel in the afternoon.
Franken attorney David Burman argued the court may not have proper jurisdiction to hear Coleman's case. Coleman attorney Jim Langdon said it does.
Team Coleman has maintained there are issues at hand only the court can resolve, such as the notion of ballots that might have been double counted and rejected absentee ballots that might have been excluded in error.
If the case is not dismissed, it is set to begin Monday.
For the time being, Coleman plans to send his Senate papers to the Minnesota Historical Society, but with the caveat that they would be returned if he overcomes Franken's lead and wins a second term. He was first elected in 2002.
Coleman was once viewed as a rising star in the Senate and often mentioned for leadership positions within the Senate Republican Conference. In 2004, Coleman lost a bid to run the National Republican Senatorial Committee to Sen. Elizabeth Dole, R-North Carolina, by one vote.
Now, he is fighting for his political life and has the unpleasant task of removing pictures from his office walls.
"It is really hard," he said. "It is hard on multiple levels. I wonder what folks, who have been here 24 years or 18 years, they have to pack up. There are a lot of memories. And then there is a practical side. We have a sense of confidence we are coming back."
One of the many perks senators are afforded is a front row seat to presidential inaugurations. Senate Majority Leader Harry Reid, D-Nevada, gave Franken tickets so he could attend President Barack Obama's swearing-in ceremony. Coleman watched it at home in Minnesota.
"I would have loved to have the opportunity to have been there as a member of the U.S. Senate," he said. "Circumstance didn't provide that, but I celebrated the moment like everybody else. It was a great day for America yesterday."
At about the same time Wednesday, Reid was chiding the Republican senator for not conceding the race to Franken.
"There is no way that Coleman can win this," Reid said. "The numbers just aren't there."
A Reid spokesman said that at some point he may attempt to seat Franken, but cautioned that no decision has been made yet.
The Minnesota seat is the only vacancy in the Senate, which Democrats control by a 58 to 41 margin. Should Franken prevail, Democrats would be one vote shy of the magic number of 60, which would give them the power to muscle through major legislative initiatives over Republican objections.
Coleman predicted that Reid would not dare to seat Franken until this is resolved, because he has not been presented with a signed election certificate by state officials.
For weeks, Reid would not acknowledge Roland Burris as the junior senator from Illinois because his certificate lacked the secretary of state's signature.
E-mail to a friend

CNN's Chris Welch and Ted Barrett contributed to this report.
All About Norm Coleman • Al Franken • U.S. Senate • Minnesota