By Julian E. Zelizer
Special to CNN





Editor's note: Julian E. Zelizer is a professor of history and public affairs at Princeton University's Woodrow Wilson School. He is completing a book on the history of national security politics since World War II, to be published by Basic Books. Zelizer writes widely on current events.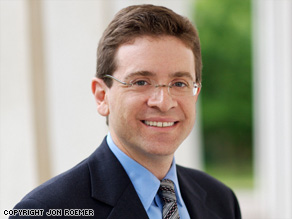 Julian Zelizer says the "best and the brightest" in JFK's administration ignored history's lessons.
PRINCETON, New Jersey (CNN) -- The Obama administration starts its work today with the highest of ambitions.
As President Obama said in his inaugural address: "For everywhere we look, there is work to be done. The state of our economy calls for action, bold and swift, and we will act -- not only to create new jobs, but to lay a new foundation for growth.
"We will build the roads and bridges, the electric grids and digital lines that feed our commerce and bind us together. We will restore science to its rightful place, and wield technology's wonders to raise health care's quality and lower its cost.
"We will harness the sun and the winds and the soil to fuel our cars and run our factories. And we will transform our schools and colleges and universities to meet the demands of a new age. All this we can do. All this we will do."
During the presidential transition, I was fortunate enough to be invited by a friend in Washington to a party with some of President-elect Obama's top speechwriters and his press spokesman.
The living room was filled with some of the personalities who shaped Obama's historic campaign.
Don't Miss
It was an impressive group: young, ambitious, talented, bright and ready to take on Washington. These were the campaign workers who defeated the Democratic frontrunner, overpowered the feared Republican establishment and now find themselves at the highest levels of power.
On the way to the party, I had been re-reading David Halberstam's classic book, "The Best and the Brightest," a legendary history of the personalities who worked for John F. Kennedy and Lyndon Johnson. Halberstam's tragic story traced how some of the brightest minds in the country, such as Robert McNamara and Walt Rostow, pushed the country into a military operation that was so disastrous: Vietnam.
While speaking with Obama's team, I could not help but think about what lessons they might learn from the book. In many respects, the current White House is as impressive as the one that Kennedy and Johnson assembled. Obama has drawn on the nation's best universities, the most talented pool of campaign operatives and writers, and the top echelons of the national security and economics establishments.
While there is nothing inevitable about talent making mistakes, there are weaknesses that Halberstam saw in Kennedy's generation that would be worth remembering today. The first is hubris.
Halberstam's account traces how Kennedy's team, which had extensive experience in the national security establishment and had built the institutions of the Cold War, were so confident in their vision and ability that they didn't have a sense of their own limitations.
Though he understood, early on, the enormous challenges that the U.S. confronted in defending South Vietnam, the "Whiz Kid" Robert McNamara was certain that he could figure out a way to make the policy work. The numbers said the mission was possible.
The confidence of McNamara and his colleagues caused them to downplay, or to simply ignore, strong warning signals they were hearing from military officials, certain administration officials and many legislators, and to instead push the nation into the war.
The second mistake was being trapped in the politics of the past. For Kennedy's generation of Democrats (and Republicans, like McNamara, who worked for him), one of the main problems was overcoming the political damage that had resulted from the "Who Lost China" debates.
In the elections of 1952 and 1956, Dwight Eisenhower had won the presidency (and Congress from 1952 to 1954) by charging that President Harry Truman had failed to support the Chinese Nationalists in 1949 against a communist revolution.
Kennedy's team was determined not to lose on that score again. They wanted to burnish their hawkish credentials and were leery about giving Republicans the opportunity to paint them as weak on defense. This led them to make poor decisions.
Obama's team faces a similar challenge. Democrats had been battered for many years by conservatives who charged they were unwilling to challenge communism and then terrorist networks.
Sometimes Obama's team has articulated a new national security agenda -- talking about multilateralism and diplomacy and "Smart Power" and new initiatives in the Middle East.
But at other times, his team has attempted to show that Democrats can be equally aggressive on defense -- appointing Bob Gates to secretary of defense and talking tough about a significant escalation of force in Afghanistan. Obama has remained largely silent on recent events in the Middle East.
The final trap was disdain for the legislative branch. Kennedy's generation of the best and brightest were believers in the "imperial presidency." They came from an era when liberals thought the executive branch was more sophisticated, efficient and capable. They didn't have much good to say about Congress.
In their mind, senior Democrats who had made their career in Congress, such as Johnson, represented a type of politician who was crass and ignorant, only concerned with getting as many votes as possible, who needed to be overcome. Even when working for Johnson after he became president when Kennedy was assassinated, they expressed the same feelings, including about their own boss.
This was unfortunate since there were many legislators, such as Georgia's Richard Russell on the right and Idaho's Frank Church on the left, who were early voices of opposition to escalating America's involvement in the war.
This mentality could be a trap for Obama's team as well. Obama campaigned against politics as usual, and they have frequently defined change in opposition to the way that business has been done on Capitol Hill.
But given the enormous agenda the administration will now pursue, in the middle of a grave economic crisis, the White House will desperately need the support and wisdom of veteran legislators (such as Vice President Joe Biden) who can offer a keen sense of which kinds of proposals are viable, which are not, and what the best strategy is in terms of the timing and sequence with which to move legislation through Washington.
Toward the end of his book, Halberstam wrote that Kennedy's best and brightest "had, for all their brilliance and hubris and sense of themselves, been unwilling to look to and learn from the past ..."
In the end, the best and brightest plunged America into one of its greatest policy disasters and shattered the Democratic Party.
As we look into the eyes of the people surrounding Obama, as they still glow from the thrill of what they achieved and the celebrity status they now enjoy, we can only hope they have the insight and strength to look back at the Kennedy-Johnson era and learn from the mistakes, not just the accomplishments, of their predecessors.
The opinions expressed in this commentary are solely those of Julian Zelizer.
E-mail to a friend

All About John F. Kennedy, Jr. • Vietnam • Barack Obama