By Paul Steinhauser
CNN Deputy Political Director





WASHINGTON (CNN) -- A national poll indicates that nearly six in 10 Americans support an increase in spending to pump up the economy, and there are even higher levels of support for a plan that involves tax cuts.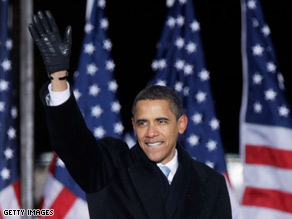 President-elect Barack Obama waves to supporters in Baltimore, Maryland, on Saturday.
Fifty-eight percent of those questioned in a CNN/Opinion Research Corp. survey released Sunday say they favor increased government spending to stimulate the economy, which has been in recession for more than a year. Four in 10 of those polled oppose increased spending of taxpayer dollars.
Support for the stimulus plan jumps 13 points -- to 71 percent -- when tax cuts for individuals and businesses are added to the package, and opposition drops 12 points, to 28 percent.
"Barack Obama's plan to reach out to Republican members of Congress with a tax-cut component to his stimulus package seems to be working with the GOP rank and file," CNN polling director Keating Holland said. "Most Republicans nationwide oppose a stimulus plan that only has increased spending in it. But support for a stimulus plan with tax cuts climbs to 70 percent among Republicans."
Don't Miss
The package to stimulate the ailing economy is a top priority for Obama. The president-elect traveled to Ohio on Friday and delivered a presidential-style speech to push his plan.
Last week, Democrats in the House of Representatives unveiled their version of the economic recovery package, which would cost $825 billion. Their plan would include $275 billion in tax breaks and $550 billion in spending.
The CNN/Opinion Research Corp. poll was conducted from January 12 to 15, with 1,245 adult Americans questioned by telephone. The survey's sampling error is plus or minus 3 percentage points for some questions and 4.5 percentage points for others.
E-mail to a friend

All About Barack Obama • National Economy