By Ruben Navarrette Jr.
Special to CNN





Editor's note: Ruben Navarrette Jr. is a nationally syndicated columnist and a member of the editorial board of the San Diego Union-Tribune. Read his column here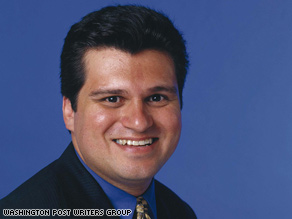 Ruben Navarrette Jr. says virtually everyone is rooting for Barack Obama to succeed.
SAN DIEGO, California (CNN) -- Because of circumstance, calamity and panic, President-elect Barack Obama's first days in office probably will be unlike anything experienced by other presidents in recent memory.
The popular view is that, after his inauguration Tuesday, Obama won't have much of a honeymoon.
After all, for several weeks, we've watched Obama prepare to hit the ground running. While he is justly reluctant to opine about the violence in Gaza because, as he says, we "only have one president at a time," in other matters, he has jumped right in and done his best to act presidential.
But the truth is that Obama will probably have a longer honeymoon than many expect, and one largely free of the partisan sniping and personal animosity that greeted his predecessors. The country is still as polarized as when President Clinton took office in 1993 or when President Bush took office in 2001.
It's just that the prospect of facing crises on multiple fronts has a way of spoiling the appetite of average Americans for petty bickering. Many of us have come home to the idea that our elected officials should be spending less time jockeying for position and plotting their own political futures and more time serving the public interest and advancing the common good.
It seems that some members of Congress have forgotten that, and this includes Democrats who have recently been locking horns with Obama over his Cabinet nominations and other issues as they try to protect their turf.
Still, Obama has so much on his plate to deal with -- from Gaza to the financial meltdown to a pair of wars against terrorists in Iraq and Afghanistan to reforming the health care, educational and immigration systems to finding alternative sources of energy -- it's hard to find people who are rooting for him to fail.
Don't Miss
In fact, I would guess that even many of those Americans who voted against him in November are hoping he succeeds.
It's like that scene in the movie "Independence Day" when the president turns to the engineer charged with saving the planet and says, "We're going to see if you're as smart as we all hope you are."
There certainly weren't any doomsayers at a rather unique "power lunch" at the White House. Bush invited Obama, along with former Presidents Carter, George H.W. Bush and Clinton.
For all the ribbing he takes from the condescending liberal media for his syntax, Bush 43 managed to put into words what many Americans are feeling at the moment. Bush told Obama: "One message that I have and I think we all share, is that we want you to succeed. Whether we're Democrat or Republican, we care deeply about this country."
President Bush is right. Those of us who care deeply about this country -- whether black or white, red or blue -- need for Barack Obama to succeed, because failure would come at too high a price.
Which makes it all the more interesting that congressional Democrats haven't been more supportive of the new leader of their party. Obama hasn't even been sworn in yet and already he's taken fire from Sen. Dianne Feinstein, D-California, over his choice of Leon Panetta to head the CIA, and from Rep. John Conyers, D-Michigan, over his reported pick of CNN chief medical correspondent and neurosurgeon Sanjay Gupta as surgeon general.
Obama also has encountered resistance from Democrats who are reluctant to support his economic stimulus package because they object to his hard line against earmarks and his proposed tax breaks for businesses.
One person who seems less than enthusiastic about the fact that there will soon be a new Democratic sheriff in town is the increasingly tone-deaf Senate Majority Leader Harry Reid of Nevada.
Last week, amid rumors that Obama ordered Reid to end the Roland Burris standoff and seat Gov. Rod Blagojevich's choice to fill Obama's Senate vacancy, Reid told the Capitol Hill newspaper Roll Call: "I don't work for Barack Obama -- I work with him."
What a pompous jerk. You're right, senator. You don't work for Obama. You work for your constituents back home and for the American people. And they expect you to put aside your ego, work with the new president they elected and put the interests of the country first. If you can't do that, it's time to look for a new job.
The opinions expressed in this commentary are solely those of Ruben Navarrette Jr.
E-mail to a friend

All About Barack Obama • Harry Reid • Bill Clinton