By Alexander Mooney
CNN






(CNN) -- Her bid for the vice presidency ended more than two months ago, but Alaska Gov. Sarah Palin appears determined not to become a mere afterthought.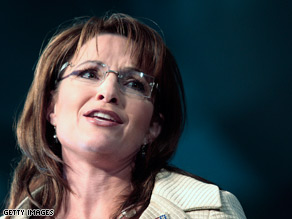 Gov. Sarah Palin may be positioning herself for a 2012 run for the White House, analysts say.
Departing from a historical trend of failed vice presidential candidates who descend into relative obscurity after Election Day, Palin continues to command the intense media coverage that befits a national office seeker.
It's an astonishing development, given that she has no role in national domestic policy and is a first-term governor of a state almost 4,500 miles from Washington.
Palin empathizers say the Alaska governor is merely trying to recover her good name after months of damage by the mainstream media, liberal bloggers and even high-level members of the McCain campaign who grew publicly dissatisfied with their VP nominee as Election Day neared.
But some political observers suggest that Palin's ongoing -- and predominantly adversarial -- relationship with the national media is all part of a savvy effort to retain her popularity with the legions of rank-and-file conservatives who stood so strongly behind her during the campaign.

Watch what Palin has to say about the media »
Should Palin eye a presidential bid herself in 2012, continued loyalty from grass-roots Republicans will be crucial in determining whether she is the early favorite in a race sure to feature a crowded field of high-profile GOP contenders.
"All of that media bashing plays to the base," said David Brody, a senior national correspondent for the Christian Broadcasting Network. "And at least within the Republican primary, that works well."
Don't Miss
Palin's latest newsmaking interview came late last week with Esquire magazine, excerpts of which were released Tuesday. In the interview, Palin bashed coverage by her home-state newspaper and lashed out at "bored, anonymous, pathetic bloggers who lie."
That interview followed similarly heated comments last week to conservative John Ziegler, in which Palin targeted comedian Tina Fey and CBS News anchor Katie Couric for "exploiting" her during the presidential campaign.
In the same interview, Palin charged that the national media continue to feed inaccurate rumors surrounding the birth of her 8-month-old son, Trigg. She also said news organizations have unduly criticized the upcoming marriage of her 18-year-old daughter, Bristol, to Levi Johnston, a former electrical apprentice in the North Slope oil field.
Palin made a phone call to People magazine late last month to defend her daughter and Johnston after the publication had suggested that neither was working to finish high school: "You need to know that both Levi and Bristol are working their butts off," Palin told the magazine in an animated voice-mail message.
The mainstream media have long served as a punching bag for conservatives, even more so in 2008, when the McCain campaign itself publicly declared that many news organizations were "in the tank" for Barack Obama.
"If Palin wants to run for the Republican nomination in 2012, she has an issue that could rally conservatives: her treatment by the media," CNN Senior Political Analyst Bill Schneider said.
But besides harnessing conservative anger at the mainstream media, it's also likely Palin is wielding her ongoing fame to dispel lingering impressions she is a policy lightweight or, worse, incompetent.
"The problem for Sarah Palin is that she may have a little Dan Quayle syndrome here in the sense that once [former Vice President] Dan Quayle misspelled 'potato,' that was the end of it," Brody said. "He had the public perception problem, and here comes Sarah Palin in 2012, and she may have exactly the same problem."
To be sure, in several recent interviews, Palin has sharply criticized how the McCain campaign handled her, particularly when it came to her dealings with the media.
In her interview with Ziegler, the Alaska governor directly indicted senior McCain advisers over a series of disastrous interviews with Couric, saying further sit-downs with the CBS anchor should not have been granted after the first one went badly.
In the Esquire interview, Palin said she wished she had stood up to McCain strategists and hadn't assumed "that they know you well enough to make all your decisions for ya."
"She perhaps felt muzzled" during the campaign, said Ryan D'Agostino, the Esquire reporter who interviewed Palin. "You could really feel and sense the frustration coming through as she was answering my pretty simple questions. It was a little bit like she was exhaling and it, maybe, it felt good."
Still, some Republicans are questioning Palin's full-court media press, suggesting that the former vice presidential candidate should instead work to beef up her résumé while assuming a lower profile.

After all, if Palin wants to be a serious presidential contender, she will need broader support than just the rank-and-file conservatives who respond so energetically to media-bashing.
"She needs a little time in the desert. She needs to retire," said Alex Castellanos, a Republican strategist and CNN contributor. "She needs to demonstrate growth as a politician, as a political leader. You can't do that if you keep staying in front of us day after day after day as the same person."
E-mail to a friend

All About Sarah Palin • Republican Party • Katie Couric • Esquire Magazine