By Abbie Boudreau and Scott Zamost
CNN





(CNN) -- President-elect Barack Obama's choice to head the Securities and Exchange Commission is expected to face questions at her confirmation hearing Thursday about Bernard Madoff -- the alleged mastermind of the largest Ponzi scheme in history.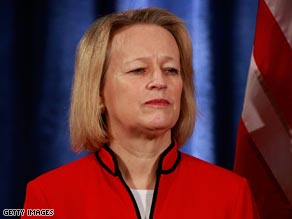 Mary Schapiro heads the Financial Industry Regulatory Authority and has been nominated to lead the SEC.
Mary Schapiro heads the Financial Industry Regulatory Authority (FINRA), which has examined portions of Madoff's firm for decades.
Now, questions are being raised about Schapiro's role in the failure to discover Madoff's alleged scheme. The SEC last week was criticized by Congress for missing red flags that alerted regulators to Madoff.
"The SEC never bothered to read the financial statements, not even for half an hour. Neither did FINRA," said U.S. Rep Brad Sherman, a Democrat from California who is also a certified public accountant.
"Clearly, Madoff's filings should have set off alarm bells, but there's a tendency in the regulatory agencies, both FINRA and the SEC, to basically say, we're dealing with gentlemen," Sherman said.
Sherman said it appears the authority missed several chances to catch Madoff.
"Then the question is -- is this a systemic problem?" he said.
Don't Miss
Schapiro has had a long career as a lead regulator, going back more than 25 years. In 1996, she was the president of the National Association of Securities Dealers Regulation, the agency that self-policed broker-dealers like Madoff.
That organization later morphed into FINRA, where she is the chief executive officer.
FINRA documents show the Madoff firm has been fined five times since 1963. FINRA spokesman Herb Perone said the fines represented "relatively minor trading violations." There were no findings of fraud.
Even though Madoff only operated one firm, Perone said, there were two separate entities -- the broker-dealer and investment-adviser sides. He said FINRA only had authority over the broker-dealer part of the business.
The SEC was in charge of the rest, and that's where FINRA says all the fraud occurred.
"No matter how much people would like to blame us on this, we had no jurisdiction. This is the SEC's responsibility," Perone said.
An SEC spokesman said Wednesday he could not comment because of the agency's ongoing investigation of Madoff.
Securities lawyer Stephen Nelson said FINRA should have known more about Madoff's investment practices.
"The question is, did they know about it and when did they know about it?" Nelson said. "And when they did know about it, what did they do about it? I don't know the answer to any of that, but I think the claim that they didn't have any responsibility for it is just silly."
He said FINRA is "trying very hard to do a much better job than they did in the past and I think it's embarrassing that this got past them, notwithstanding their best efforts."
Sen. Chris Dodd, the Democratic chairman of the Senate Committee on Banking, Housing and Urban Affairs, and Sen. Richard Shelby, the committee's ranking Republican member, declined comment. Thursday's hearing is scheduled to begin at 10 a.m.
E-mail to a friend

All About Financial Industry Regulatory Authority • Mary Schapiro • SEC Activities