By Paul Steinhauser
CNN





(CNN) -- A new national poll appears to validate the adage that time heals all wounds, at least when it comes to two former presidents of the United States.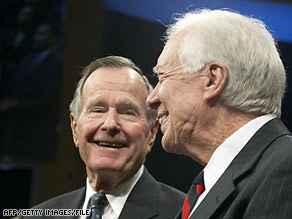 Former Presidents George H.W. Bush, left, and Jimmy Carter can smile now about their performance in polls.
Sixty percent of Americans questioned in a CNN-Opinion Research Corp. survey released Wednesday morning say they approve of how George H.W. Bush handled his job as president, and 64 percent give a thumbs up to former President Carter.
Those numbers are about double the approval ratings each had when he was voted out of office after one term.
"Time has been kind to the former presidents," said Keating Holland, CNN's polling director. "Carter's approval rating was just 31 percent on the eve of the 1980 election, and was at 34 percent in late December of that year, the last measure taken during his presidency. But now 64 percent approve of how Carter handled his job as president."

Watch what time does to presidents while in office »
The poll was released hours before Bush and Carter, along with former President Clinton, sit down for lunch at the White House with President Bush and President-elect Barack Obama. Carter lost the 1980 presidential election to Ronald Reagan, and George H.W. Bush lost the 1992 contest to Clinton.
"The elder Bush had a 34 percent approval rating just before the 1992 election, although the Americans felt better about him once they booted him from office and his rating rose to 56 percent by January 1993," Holland said. "Now 60 percent give his presidency a positive rating."
Clinton's approval rating stood at 66 percent when he finished his second term in 2001, and he gets a slightly better rating -- 69 percent -- today.
The most recent CNN/Opinion Research poll on the outgoing Bush, taken in late December, found his approval rating at 27 percent.
"The current occupant of the White House probably hopes history will treat him as kindly as it did his predecessors," Holland said.

None of those ratings compare with Obama's, who has seen approval ratings as high as 82 percent during the presidential transition, Holland said.
The CNN/Opinion Research poll was conducted December 19-21, with 1,013 adult Americans questioned by telephone. The survey's sampling error is 3 percentage points.
E-mail to a friend

All About George H.W. Bush • Jimmy Carter