(CNN) -- Former U.S. Sen. Claiborne Pell, who was largely responsible for the Pell grant program for U.S. college students, died Thursday morning at his Rhode Island home, his family said.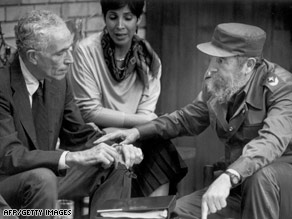 Then-Sen. Claiborne Pell meets with Cuban leader Fidel Castro in 1988.
Pell, 90, "died peacefully in the presence of his wife, Nuala, and family members" in Newport, the family statement said. He had Parkinson's disease for a number of years.
Pell was first elected to the U.S. Senate from Rhode Island in 1960, and served from January 3, 1961, to January 3, 1997, when he retired.
He was the chairman of the Senate Foreign Relations Committee from 1987 to 1994, and was named U.S. delegate to the United Nations in 1997.
"Claiborne Pell was a man of extraordinary integrity, grace and decency," said Vice President-elect Joe Biden, who served with Pell in the Senate and who chaired the Foreign Relations Committee from 2001 to 2003 and for the past two years.
"Chairman Pell was a mentor to me and one of our nation's most important voices in foreign policy for over 30 years."
Pell's great passion lay in education and the arts and humanities, believing that the country's people were its greatest asset. Largely through his efforts, Congress created Pell grants, which are need-based awards to low-income undergraduate and certain other students, in 1973.
He also was the main sponsor of the bill creating the National Endowment for the Arts and the National Endowment for the Humanities.
"The strength of the United States is not the gold at Fort Knox or the weapons of mass destruction that we have, but the sum total of the education and the character of our people," he once said.
Describing his job as a senator, Pell said his work was to "translate ideas into actions and help people."
"Public service was stamped in Claiborne Pell's DNA," said Sen. John Kerry, D-Massachusetts. "He was a quiet giant and a gentleman to the core, a dignified man who always did what he thought was right.
"Claiborne Pell will be recorded in history as a leader whose moral compass pointed him to do great things."
After Pell's retirement from the Senate, Rhode Island renamed its Newport Bridge the Claiborne Pell Bridge, and Salve Regina University established the Pell Center of International Relations and Public Policy in Newport.
Born in New York City, Pell graduated from Princeton in 1940 and Columbia University in 1946, serving in the U.S. Coast Guard in between and later in the Coast Guard Reserve. Pell also worked for the State Department and as a foreign service officer from 1945 to 1952 in Czechoslovakia, Italy and Washington.
Pell is survived by his wife of 64 years, Nuala O'Donnell Pell; a son, Christopher T.H. Pell; a daughter, Dallas Pell; five grandchildren and five great-grandchildren.
E-mail to a friend

All About Claiborne Pell