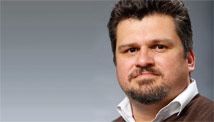 STORY HIGHLIGHTS
Luis Ramirez was killed in brutal attack in July 2008
Ruben Navarrette says Mexican immigrant Luis Ramirez is martyr for immigrant rights
He says federal authorities had to step in to prosecute after state action didn't bring justice
Navarrette says case shows we still haven't learned to end hate-based violence
Editor's note: Ruben Navarrette Jr. is a member of the San Diego Union-Tribune editorial board, a nationally syndicated columnist and a regular contributor to CNN.com. Read his column here
San Diego, California (CNN) -- Don't look now, but Pennsylvania might be the new Mississippi.
Some Americans resist any attempt to compare the modern plight of Latino immigrants to the civil rights movement of the 1960s.
Likewise, when it comes to race issues, many whites in the Northeast like to think of themselves as morally superior to their counterparts in the South. Both these groups need to brush up on their history -- and pay closer attention to current events.
In 1967, the Justice Department brought to trial 18 men -- including at least one law enforcement officer -- in Meridian, Mississippi, charging them with conspiracy to deny three slain civil rights workers their civil rights "under the color of state law."
Michael Schwerner, Andrew Goodman and James Chaney became martyrs for the civil rights movement when they were beaten and shot to death in June 1964 for what some of the locals considered the unpardonable sin of helping register blacks to vote during Mississippi's "freedom summer."
State authorities refused to prosecute the case, so the federal government had to intervene by filing federal civil rights charges. Ultimately, seven of the 18 defendants were found guilty.
Among those convicted were members of the Ku Klux Klan and Deputy Sheriff Cecil Price, who was charged with arresting the civil rights workers and handing them over to Klansmen. Price got six years in prison, but he was released after four. Some of the Klansmen who actually carried out the killings got 10 years. In 2005, a former Klansman was convicted of manslaughter and sentenced to 60 years in prison for the three deaths.
This week, the Justice Department indicted five people, including three police officers, in the racially motivated killing of a Latino man in Shenandoah, Pennsylvania. Mexican immigrant Luis Ramirez became a martyr for the immigrant rights movement when he was brutally attacked in July 2008 for what a gang of thugs considered the unpardonable sin of being Latino in a mostly white town.
Read about state prosecutor's view of the case
Ramirez died from his injuries a few days later. Derrick Donchak and Brandon Piekarsky were tried in state court. In June, an all-white jury convicted Donchak and Piekarsky of misdemeanor simple assault in Ramirez's death but -- incredibly -- acquitted them of more serious felony counts including aggravated assault, ethnic intimidation and hindering apprehension. The two were sentenced to up to 23 months in the county jail.
Luckily, Donchak and Piekarsky have now been charged with a federal hate crime. According to the indictment, they beat Ramirez while shouting racial epithets, i.e. ""go home, you Mexican mother-----." Then came the alleged cover-up. Authorities claim that Donchak and Piekarsky conspired with three members of the Shenandoah Police Department, to "obstruct the investigation of the fatal assault."
The officers, who include Police Chief Matthew Nestor, are charged with witness and evidence tampering, and with lying to the FBI -- all to keep Donchak and Piekarsky out of trouble. In the state trial, prosecutors alleged that police officers helped the teens concoct a story about what happened during the attack and even gave them a ride from the crime scene.
Maybe things will turn out in such a way that these two young men will need a ride to prison. If convicted of the federal hate crime, they could spend the rest of their lives there.
Let's hope that happens, and that -- once in prison -- their racquetball partners are the same cops who allegedly conspired with them to cover up the crime. None of that will bring back Luis Ramirez, or repair the damage done to the lives of his fiancé, Crystal Dillman, or the children who will have to grow up without a father. But it will ensure that Ramirez didn't die in vain and make certain that evil doesn't triumph in this case. It will also accentuate the truth in what the nation's top lawyer for civil rights said in announcing the indictments.
Read excerpt from "Latino in America"
"The power granted to law enforcement officers does not place them above the law," said Assistant U.S. Attorney General Thomas E. Perez in a press release. "Violence based on bigotry and hate has no place in America."
As the son of immigrants from the Dominican Republic, Perez knows this terrain. And he's absolutely right. Violence based on bigotry and hate has no place in this country. It doesn't now. And, as we should have learned long ago, it never did.
The opinions expressed in this commentary are solely those of Ruben Navarrette Jr.