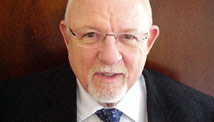 STORY HIGHLIGHTS
Ed Rollins: Tuesday results show incumbents aren't automatically safe
Rollins: Vote not a referendum on Obama but a warning to focus on economy
Results show need to listen to voters who call themselves independents, he says
Rollins says the lesson to both sides is: Don't get overconfident
Editor's note: Ed Rollins, a senior political contributor for CNN, is senior presidential fellow at the Kalikow Center for the Study of the American Presidency at Hofstra University. He was White House political director for President Reagan and chairman of the National Republican Congressional Committee.
(CNN) -- The president didn't watch the election returns Tuesday night, according to his press secretary, Robert Gibbs. He watched his beloved Chicago Bulls instead.
At least in the NBA, his hometown basketball team won -- by two points over the Bucks. If he'd watched the election returns, he would have seen that his team got clobbered.
He also would have realized a lot of angry voters are out there who aren't very satisfied with the direction of the country. In a word, Tuesday's election was anti-incumbent. The status quo isn't good enough.
I don't believe Tuesday's election was a referendum on President Obama, but it sure was a warning sign that he has to do more then show up in New Jersey and say "I need Gov. Corzine to help me in Washington."
The voters of New Jersey decided they needed the governor over the last four years to do what he promised to do when they elected him.
In spite of spending millions more than his opponent, Corzine couldn't convince voters he was going to be a better governor the second time around. And maybe that's the warning President Obama needs to take away from this election.
He needs to focus on getting this economy moving and creating jobs. The resounding Republican victories in the governors' races in New Jersey and Virginia should send a warning to Democrats everywhere that your job isn't safe just because you're an incumbent.
Republican voters who were left for dead just a year ago are intense and are back in the game. The extremely important independent voters are not to be taken for granted. They will swing back and forth between the two parties, depending on who the candidates are and what issues are bothering them.
According to CNN exit polls, 30 percent of Virginia voters identify themselves as independents, and 65 percent of those people voted for the Republican winner, Robert McDonnell.
In New Jersey, 28 percent of the voters are independent, and 60 percent of that vote went to the winner, Republican Chris Christie.
Many of the voters who enthusiastically voted for the president last November didn't show up. Young voters, as they often do, stayed home in droves. Older voters voted.
In the end, voters are pretty darn smart, and those who participate take their politics very seriously. In the end, candidates matter and so do the campaigns they run.
Republicans had better candidates, ran better campaigns and talked to voters about what was bothering them. The lesson to both sides: Don't get overconfident.
Republicans need to keep rebuilding, learn the lessons from Tuesday's victories and get ready for the next battles.
The lesson from the close loss in the congressional race in New York's 23rd District is that the party's conservative voters and mainstream Republicans have to work together to win.
The Republican establishment there chose a candidate, Dede Scozzafava, who turned out to be unacceptable to conservative voters, who wanted Doug Hoffman instead.
After big names like Sarah Palin, Rush Limbaugh and others endorsed Hoffman, Scozzafava dropped out of the election. She went on to back Democrat candidate Bill Owens, who won -- the first time a Republican has not held this seat since 1872.
This was a unique situation and too much was made of the ideological split. Elections are a one-day event after long campaigns, and a lot can happen before the next one.
Oh, by the way, the next one is November 2, 2010, and there are a lot of jobs at stake. To all incumbents, yesterday's warning was: Get to work and start listening to voters. They definitely are listening and watching you.
To the president: Get your eye off the basketball and back on the economy.
The opinions expressed in this commentary are solely those of Ed Rollins.