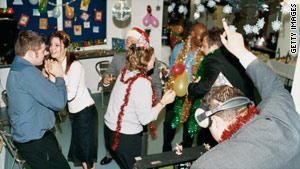 If you're lucky enough to have an office party this year, experts say behave yourself.
STORY HIGHLIGHTS
Of companies surveyed, 50 percent plan to throw an office party
Employers want employees to be happy and stay when economy recovers
Workers should use the parties to network, experts say
Survey finds party antics can really hurt your career
(CareerBuilder) -- Over the years I've attended all kinds of work holiday parties. From the afternoon punch and cookies where you just have to show your face for five minutes, to the intimate and extravagant fine dining meal, to the huge blowout with endless food, open bar, chocolate fountains and partying until the wee hours of the morning.
This year, I doubt many workers expect their employers to throw a holiday party.
I was pleasantly surprised, however, by a new CareerBuilder survey about employers' plans to cut back on their 2009 holiday parties. Eleven percent of employers don't plan to give a holiday party to employees even though they had in previous years. But almost 50 percent plan to give holiday parties -- either on a smaller or the same scale as previous years.
Although budgets are still tight, there's a reason some employers are trying to spread a little holiday cheer.
Experts predict that when the job climate improves, those employees who did survive mass layoffs and cut paychecks will start looking for greener pastures ... and that has employers worried.
Keeping holiday celebrations might be just one of the things employers need to do to show their top performers that they are valued. A survey by Chartered Management Institute (CMI) shows that two thirds (65 percent) of managers across the UK believe that Christmas parties are important in helping to improve employee engagement.
The survey, of 1,337 managers, found that 66 percent claimed that the office Christmas party is a vital way of recognizing the hard work undertaken throughout the year. A slightly higher proportion of managers (71 percent) also believe end of year celebrations should continue in spite of the recession.
But the findings also show that managers recognize the need for responsible reward and celebration. When asked about public perceptions, 58 percent agreed that an expensive party could damage their organization's reputation. The research also discovered that half of those questioned (50 percent) believe that a "team lunch is better than an organization-wide party."
If you are lucky enough to be treated to a holiday office fete this year, make sure you remember that what happens at the office party does not stay at the office party.
The Creative Group, a creative services staffing firm, reports that nine out of 10 advertising and marketing executives (92 percent) they polled said workers' office party antics can affect their career prospects.
When asked, "To what extent do you think an employee's behavior at an office holiday party can affect -- either positively or negatively -- his or her career advancement prospects?" 44 percent said greatly and 48 percent said somewhat. Only 8 percent said not at all.
The goal is to use the holiday party -- no matter how big or small -- as an opportunity to give yourself some positive work PR.
"There often are many influential people in the room at office holiday parties," said Donna Farrugia, executive director of The Creative Group. "Although these gatherings can be festive, it's important to keep in mind that they are still work events. You want to exhibit poise and good judgment throughout, no matter how casual the celebration may seem."
Farrugia noted that office holiday parties are an opportune time to network within your company.
"In many businesses, there may be few chances to mingle with corporate executives and others throughout the organization," she said. "Employees should use these events to form positive connections with colleagues outside their usual circle. Being well-networked internally can help professionals perform better and enhance their value to their firms."
Something to consider if you are treated to some merriment by your employer this year.
&copy CareerBuilder.com 2011. All rights reserved. The information contained in this article may not be published, broadcast or otherwise distributed without the prior written authority.