(The Frisky) -- When you're single, meeting eligible men can be kind of frustrating. Yes, you can go to bars, try online dating, or stalk pet-owners at the dog park, but if you tried your usual tricks and now feel like you've depleted your options, have no fear!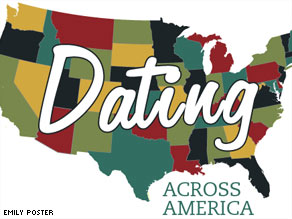 Finding "the one" can be hard. Check out acting classes, baseball games and wrestling events for your next guy.
We asked 10 women in cities across the country how they met their last boyfriend (and what they did on their first date together) to give you a few new ideas.
It looks like we'll be signing up for acting classes, going to a few baseball games, and watching live wrestling events!
New York
"I met my husband at a Halloween party in New York. The party was crowded, and I needed to visit the bathroom but worried it would take so long that he'd think I was blowing him off and leave, so I asked him to hold my gloves while I was gone.
Sure enough, when I got back he said, 'You were gone so long I would have left if I wasn't holding your gloves!'" --Nancy Lichtenstein
Dallas, Texas
"I met the last guy I dated at the State Fair of Texas while standing in line to buy a corn dog. It was an extremely hot Texas day, and the line was unbelievably long. He saw that I was not taking the heat very well and offered to stand in line for me.
I politely turned the offer down and ended up chatting with him. Once we purchased our corn dogs, we exchanged numbers. Our first date was a return trip to the State Fair of Texas, in the evening, of course, and we enjoyed another round of corn dogs, which he gladly stood in line for." --Kaye Joseph
Cleveland, Ohio
"I met the last guy I dated sitting in a stadium watching the Cleveland Indians play baseball. I went to the game with some friends, and I got stuck on the end of the group next to a person I didn't know.
Well, that person ended up talking to me more than watching the game. We exchanged numbers after the game and the rest is history. Every year for our anniversary, we go to the stadium and watch the Indians play ball." --Natalie Walker
St. Louis, Missouri
"I met Dennis at Dock Rockers, a St. Louis bar. At one point during the night, after many drinks, I decided I needed more lip gloss and went to my car. When I was out there, I overheard this woman talking on the phone trying to convince her brother to come to the bar.
I would have never done this sober, but I interrupted her and told her that I was available, and she relayed the message to him. About an hour later he arrived and we danced to 'Love Me When I'm Gone' by 3 Doors Down." --Wendy Maple
Boston, Massachusetts
"I've known the last person I'm with since junior high school. He left me a necklace and perfume on my desk in science class. I wasn't interested. Now we're getting married.
The most fun date we ever went on was the night we went to The Blue Man Group at the Charles Playhouse in Boston. We had a casual and tasty bite to eat at the California Pizza Kitchen. Then we walked over to the Charles, watched The Blue Man Group and laughed until our cheeks hurt, much like we did back in junior high school." --Pam Gaulin
Chicago, Illinois
"I met my last date at a football game, and I don't even like sports. I was invited to Chicago's Football Classic because my employer was a sponsor. Walking inside the stadium after the Battle of the Bands at Soldier Field, I saw him performing onstage.
One interview later, and we were a couple. The last date we went on was to the Chicago Defender Newsmaker Gala at the Hyatt Regency. He was very polite to my co-workers, and we met R&B artist Danny Boy, who performed that night." --Shamontiel L. Vaughn
Los Angeles, California
"He sat next to me in my acting class. Our instructor paired us up for a scene, so we exchanged numbers to rehearse. He kept sending me flirty texts and asked me out that weekend.
Our first date was a picnic dinner in Griffith Park and a visit to the Griffith Observatory. We had an amazing view of downtown Los Angeles and the Hollywood sign. We kissed under the stars and were surrounded by city lights. It was so romantic and felt like it was straight out of a movie." --Adrienne Tilden
Miami, Florida
"The last guy I dated I met while working in a gym in Miami Beach. He was a client, and I fell for him right away. On our first date we went to the Samurai Japanese restaurant at the Falls. We had a blast watching the chef cook. We took a walk on Miami Beach after our dinner. We have been going hot and heavy ever since." --Colleen Starr
New Orleans, Louisiana
"I was at Café Beignet in the French Quarter, and he was standing in line in front of me. I mentioned how lucky we were to get away from the crowds on Bourbon Street, and he joked that he was doing the same. We hit it off right away!
Our first date was pretty casual. We went to the Jazz Parlor at Storyville for a jazz and blues concert. It was a great way to get to know each other, and the music hall wasn't too crowded. After the concert, we had drinks at Café Brasil." --Lauren Peterson
Minneapolis, Minnesota
"I met my last date -- and soon-to-be husband -- while waiting in line for a wrestling event at the Target Center. We bumped shoulders as a security guard escorted him out of the arena for having a digital camera in his knapsack.
He contacted me a month later on a message forum after recognizing my face and arranged for a happier meeting. Several months later, we had our first date in the Target Center for another wrestling event, and the night would have been perfect if I hadn't been knocked over by a cameraman.
We ended the night by sipping Diet Coke at a concession stand as I tended to my sore leg." --Ann Olson
E-mail to a friend

TM & © 2009 TMV, Inc. | All Rights Reserved
All About Dating • Relationships