By Josh Lerman





(Parenting.com) -- My wife and I share a home and a bed. We kiss goodbye in the morning and hello in the evening with such ritualistic regularity that if one of them somehow gets missed, I worry it means bad luck.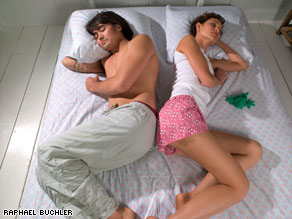 Author is working on ways to reconnect with wife when daily life gets in the way.
We have a marriage in which we tell each other things, without large, dramatic fights, a marriage that in our affection and respect for each other seems awfully good in comparison to those of most of our friends.
But somehow in the past ten years or so since our first daughter was born, in the mad swirl of breastfeeding and colic, of Pull-Ups and wipes, dinners and playdates, car repairs and sweeping, versions of each other that we used to take for granted -- versions of our relationship -- have gone missing.
Christina and I met around 20 years ago. The friend of a friend of one of my college roommates, she appeared to me first at a party a few weeks after graduation. I thought she was gorgeous, and remember standing in the kitchen talking to her, trying to make her laugh.
She left the party early, and I later heard she'd gone off to Europe. There was a boyfriend.
But through the coincidences of social life in a big city, I ended up living with a high school friend of hers, while she returned to New York to work in the same office as another friend of mine from college. We became part of each other's circle of friends.
Over the next year or two, as we spent time with each other on a semi-regular basis, our banter became more flirtatious, and I finally asked what she was doing Friday night. She answered "Something with you," and we've been together ever since.
What I remember most about our first years together was our laughter. We giggled in bed at night and over the course of long weekend mornings, lying on our backs, legs draped across each other's legs. Shameless hilarity in restaurants, malls, on the sidewalk -- a private world of absurdity and delight, in love with the ridiculousness of the world and each other.
We moved in together, married, and bought an apartment. Jobs gotten and lost, money pressures, depression, a relative's drinking problem, fertility issues -- the stuff of adult life -- all pounded at us but ultimately pushed us closer. At last we became parents together, sharing the shocking face-smack of responsibility and obligation that comes with the precarious-seeming beauty of infancy.
Of course we were still silly together -- it's who we were -- but there was less time, less energy. Christina's body, during pregnancy and breastfeeding, and even after, it seemed, was owned by our daughter Olivia. The baby was lavished with affection, but maybe not husband and wife so much.
The baby was tickled and sung to and spoken nonsense to and made to laugh, but maybe not the husband and wife so much.
A new job, more fertility trials, the dehumanizing infinity of adoption paperwork capped by waiting, waiting, and finally our baby, a second daughter, Lucy. Our life continued, almost on autopilot.
The children grow and their needs change. They must be fed, the mortgage paid, the sidewalk shoveled, bedtimes enforced. The obligations -- to the preschool, the PTA, my job, Christina's work, Olivia's preposterously plentiful homework -- are a constant, staticky background to our lives.
My wife and I support each other, can count on the other, and on random weekends away can recapture flashes of that old lightheartedness.
And there are new shared pleasures: looking at each other in baffled rapture at the half-wit brilliance of 4-year-old Lucy explaining "how they make grass"; beaming with outsize pride at 9-year-old Olivia's dance-recital seriousness and grace; witnessing a spontaneous, unexpected gesture of affection from an older sister to a younger. And the attempted mom-dad hugs in the kitchen dissolving into four-headed laughing kiss-fests.
But it's too little, too fleeting. We spend so much of our lives passing each other on the way somewhere. Me on the way to see whether the sudden, eerie silence from the girls' room is Lucy scaling her dresser like a climbing wall (it is). Christina on the way to the basement to put the laundry in the dryer because no, I have to admit, it wouldn't occur to me to do it on my own.
Our bedtimes drift apart -- Christina's closer to the girls', mine later toward a precious hour or two of private, need-free quiet time listening to music, reading, or watching bad TV. Parenting.com: What your husband isn't telling you about your sex life
What's gone is the pure selfishness that brought us together. Something that belonged only to us, that was unique to us and part of us, has gotten lost.
But isn't this what happens in life -- that what I remember was a time, not a thing, and we can no more recapture those versions of ourselves than we can travel to ancient Rome? That a normal part of becoming an adult, of raising a family together, is leaving behind treasured swaths of the love affair that got us here -- the mindless lust, the inside jokes, the laughter? Perhaps. But even so, selfish though it may be, I miss my wife.
So we must build on what we had -- what we still have. We're different people now, in different lives. We've changed, and so our love must change. The problem isn't really that something is lost. It's that we've been looking in the wrong direction, sitting there waiting for something to materialize instead of getting up and making it ourselves. Parenting.com: Secrets to made-to-last marriages
We'll have to try a little harder to see past the day-to-day. If I do, I'll find my wife -- she's in the basement taking stuff out of the dryer.
And if she can postpone bedtime for just a few minutes (please!), she'll find me down in the living room watching bad TV. I can't tell you how easy it would be to get me to turn that damn thing off.
E-mail to a friend

Try a FREE TRIAL issue of Parenting Magazine - CLICK HERE!
Copyright 2009 The Parenting Group. All rights reserved. Reproduction in whole or in part without permission is prohibited.