By Rachel Kramer Bussel






(The Frisky) -- "Dinner and a movie" may sound like the most boring, clichéd date ever, but I think movie dates are hot. When you go to the movies with someone, you learn a lot about them: what kinds of films they like, whether they pay for the tickets, how they behave in the theater.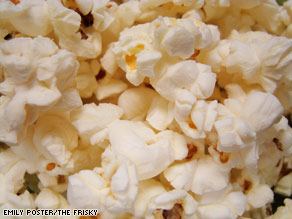 Movie dates can be a great way to get to know your companion.
You may not be talking during the movie, but there's a lot to be said for body language.
I've had some hot times in movie theaters. In some cases, I can't quite recall what movie I saw. One was a first date with a friend of a friend that started off rather timidly; we went for drinks and then to a movie, and I wasn't sure exactly what he thought of me.
At some point, we started holding hands, and soon my focus was almost entirely on how his hand felt in mine, on the way his thumb traced my palm, half tickling, half making my stomach do flip-flops. We didn't know each other well, but we were certainly aware of our attraction, and the silence and darkness of the theater let us act on it without awkwardness.
Film critic and "Accidentally on Purpose" author Mary Pols thinks movies don't make for great dates. "It's both too intimate, sitting silently next to someone you don't really know, and too limiting; you can't get to know them better ... if you still have the energy. I find movies fairly draining -- although that could be because I'm always working at them-and the last thing I want to do is process in front of someone who might be judging as to whether I'm second or third date worthy."
I politely disagree. Yes, there's two hours of silence, but there's also making the plan to meet up, waiting for the movie to start, eating the popcorn, dissecting it afterward, all of which can give you insight into what a guy is like and giving you something other than yourselves to talk about.
My friend Aaron Dobbs, who blogs about movies and works for a local film festival, is on the nay side, too. "A movie is definitely not good for a date at the beginning of a relationship," he says. "First, you can't really get to know each other, and no matter how well you both may enjoy the performance, you're not learning whether or not you'll enjoy each other.
But even worse, let's say that during your pre-movie activity you realize that you're not connecting, then suddenly you're stuck sitting next to this person in the dark for two hours. Chances are, it might be difficult to even make the best of it and enjoy the movie."
Recently, I went to on a date that involved brunch and then "Slumdog Millionaire." We got to chat and spend time together beforehand, shared a cupcake, and then watched the movie, both of us so riveted that we didn't really make eye contact during it. When I told one friend what movie we saw, she seemed horrified, because of the violence, but I saw it more as two friends, with the potential for more, seeing a film we both wanted to see.
Pols says, "'Slumdog Millionaire' is an interesting choice for an early-stage date. It's so bloody romantic that the date might have a hard time measuring up to it. Take something like 'The Curious Case of Benjamin Button.' Lovely movie, wistful, romantic. I'd only go to that with a guy where the love was already on the table; I think it's too big thematically for a new couple to take on." Pols recommends "The Wrestler," blood and all, as a date movie.
"It doesn't skew too much toward the female, or the male, it's moving and interesting, and a guy is unlikely to resent being brought to it." On the other hand, she says, "Bride Wars," "would cause instant impotence."
Which brings us to chick flicks. When it comes to this genre, unless you're dating another chick, leave your date at home. My ex-girlfriend Kiki and I used to see chick flicks, but we both wanted to see them; no one was being dragged along.
I can't imagine bringing a guy to see "Confessions of a Shopaholic" or "He's Just Not That Into You." I wouldn't be able to really enjoy them if I felt like my date was rolling his eyes at my movie choices.
Movie dates are great for couples, but why should they have all the fun? This single girl hopes there are many more movie dates in her future.
E-mail to a friend

TM & © 2009 TMV, Inc. | All Rights Reserved
All About Relationships • Movies • Dating