STORY HIGHLIGHTS
Dominique Wilkins: There are NBA players who don't have form like 9-year-old
Young athletes need more than skill to succeed at highest levels, expert says
Darryl "Chocolate Thunder" Dawkins recalls trials of being teen phenom in 1975
Jonathan Spector had to acclimate when Manchester United signed him at age 17
Atlanta, Georgia (CNN) -- Darryl Dawkins, like many teen sports prodigies, wasn't afraid to join the professional ranks as a youngster.
He was emboldened by his size and imagination. A big man -- 6-foot-10 in 1975 when the Philadelphia 76ers drafted him out of high school -- Dawkins wasn't in awe of the stars of the era, he said.
"I had watched the big men play, and I noticed big men go straight up and down the floor, beat on each other and were responsible for shutting down anybody that comes in the lane. I thought, 'I can do that,' " he said.
Confidence is one of the "big three" characteristics, along with composure and concentration, that young athletes need when competing at sports' highest levels, said Angus Mugford, mental conditioner for IMG Academies in Bradenton, Florida.
IMG, a multi-sport facility that provides camps and schools for athletes, boasts among its alumni tennis' Venus and Serena Williams and baseball's Ben Sheets and Nomar Garciaparra. Mugford has seen plenty of champions pass through IMG's campus, but said there are "no perfect predictors" for what makes a phenom.
Dakota Simms seems on track for greatness and is hoping the NBA changes its age requirement so he, like Dawkins, can go directly to the NBA from high school.
Simms' jump shot is masterful; a basketball fan might consider it art.
He elevates through his legs, toes pointed downward and back straight, and strokes the ball toward the hoop, following through as if he were painting a wall with his fingertips.
He practices the jumper and other elements of his game every day, staying at the gym until he makes at least 200 three-point shots with an NBA regulation ball.

Video: NBA Hall of Famer vs. the kid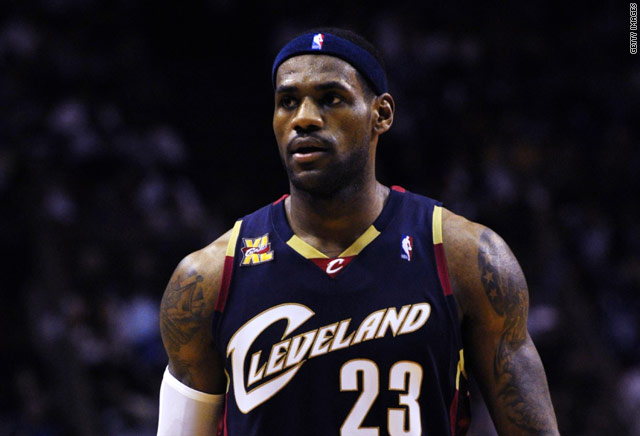 Interactive: Stories of sports prodigies
And Dakota is only 9.
"That form is great. There's some guys in the NBA who don't have form like that," said ex-Atlanta Hawk and NBA Hall of Famer Dominique Wilkins after he and the youngster met at Philips Arena's practice court for a friendly three-point shooting contest from the NBA arc.
Watch who won the contest by one shot
"The fact that he's able to make that many shots is pretty incredible," Wilkins said. "If he stays focused like he is right now, he'll write his own ticket."
Dawkins, by all accounts, was expected to write his own ticket as well, but he was sidetracked by the temptations that often accompany fame and fortune. After the 18-year-old signed a seven-year contract for about $1 million -- a sum for which most of today's NBA players wouldn't sweep the gym floor -- he quickly immersed himself in "soft drugs" and women, he said.
His backboard-shattering dunks would earn him the moniker "Chocolate Thunder," but he also garnered a reputation for his playful demeanor and trash talking. He spun tales of his fictional "Planet Lovetron" and anointed his dunks with colorful names like "Turbo Sexophonic Delight" and "Spine Chiller Supreme."
Behind the Scenes blog: Dawkins talks inspiration
Dawkins was a hit with fans, but dogged by injuries, he never statistically lived up to their towering expectations during his 14 seasons. He has no regrets, he said, because he entered the NBA to lift his family out of poverty.
"I lived on the edge, and I'd take that gamble," he said.
As head basketball coach at Lehigh Carbon Community College in Allentown, Pennsylvania, he tells his hoopsters to do as he says, not as he did.
"You can be whatever you want to be. Nurse, doctor, lawyer, teacher -- we need all those, and those are going pro, too. You can be a doctor a lot longer than you can play ball," he tells his charges today.
The fate of a teen pro athlete hinges on a host of variables, and only one is sheer skill, Mugford said. Also important, he said, are breathing, coordination, communication, openness to feedback, intrinsic motivation, an understanding of hydration and nutrition, musculoskeletal development and the ability to recover from the rigors of exercise.
Work ethic is important, too, Mugford said, explaining, "They want to do that -- put the blood, sweat and tears into practice."
While there are hundreds of examples of teens having average or workmanlike careers, there are also monumental busts and booms.
At one end of the gamut, you have football's Todd Marinovich and tennis' Anna Kournikova, young athletes whose hype overshadowed their actual accomplishments. On the other end, you have Sidney Crosby and LeBron James, guys whose ages were never evident when they took the ice and court as teens.
Learn how James, Crosby came on the scene
Hoping to follow the leads of ballers like James, Dakota practices up to 14 hours a week, but outside his Herculean work ethic, Dakota is a typical kid.
Terence Simms, his coach/father, and Kobe Bryant are his favorite basketball players. Cheeseburgers and hamburgers are his two favorite foods, in that order, and he enjoys writing stories and playing video games when he's not on the court.
But talk to him about basketball and you'll hear some things atypical of 9-year-olds.
"If you miss some shots, you've got to get your head right," Dakota said before a recent practice at a gym in the Atlanta suburbs. "You've got to fix it. Nobody else is going to do it for you."
It's imperative that young athletes have focus, drive and the ability to reset their minds when they're off the playing field, Mugford said, but often overlooked is something that should be at the root of all sports.
"If fun isn't the key element at this point, that's what typically leads to burnout or change of sport," Mugford said of young athletes.
Having fun certainly helped Jonathan Spector. A member of the U.S. national soccer team who plays for England's Premiership squad West Ham United, Spector said it was hard to be homesick when he was doing something he loved. The IMG graduate moved to England in 2003 after Manchester United offered him a contract at age 17.
"It's one of the best clubs in the world, and I was pursuing things I wanted to do so it was kind of hard to feel sorry for yourself," he said.
Spector had to acclimate plenty. Without his friends and family nearby, he faced new competition, different styles of play, constant travel and, of course, the pressure of 40,000 spectators watching.
"There's pressure now. There was pressure then, but I've never really been one to succumb to that or let it affect me in any way," he explained. "I kind of thrive on it. It's something I enjoy."
Rachele Fico is not easily rattled, either. A softball slinger with a rise ball her father describes as "murder," Fico began receiving letters of interest as soon as she took the mound in high school.
"If you miss some shots, you've got to get your head right... You've got to fix it. Nobody else is going to do it for you."
--Dakota Simms, 9 years old
Pitches clocked at 64 mph catch recruiters' attention, and Fico was throwing curveballs at 68 her junior year. Louisiana State University signed Fico last year, before she even tossed a pitch her senior season (she later shattered the national high school record for career perfect games).
Ralph Fico said his daughter owes her success to her unflappable bearing and to her diligence -- she has thrown about 30,000 pitches a year since she was 9.
"Nothing really seems to bother her. She doesn't show it. I'm sure there's a lot of adrenaline flowing," he said.
Athletes who hone these coping attributes at an early age are better able to deal with fear and pressure at higher levels as adults, Mugford said.
Though IMG spends a great deal of time and resources trying to ascertain what makes athletes great, Mugford concurs with Dawkins that making great people takes priority.
"A pro sports career is only going to be so long. They're going to be around for a much longer time as people," he said. "Ultimately, we want the best person out of the deal."
FOLLOW THIS TOPIC