By Curt Merrill
CNN






(CNN) -- An Alaskan beat out 300 hirsute competitors from around the globe to take the top honor at the 2009 World Beard and Moustache Championships on Saturday.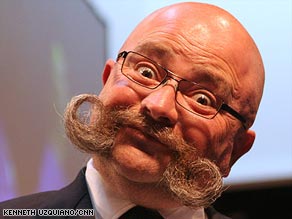 Dan Sederowsky of Sweden shows off his moustache in Anchorage.
David Traver may have had home-court advantage: He was a favorite of the crowd at the Dena'ina Civic and Convention Center in Anchorage, Alaska, in both the "freestyle" category, where just about anything goes, and the overall championship.
His winning move? He wove his beard into a basket-like cone that resembled a snowshoe.
There were 17 officially sanctioned categories in the competition: eight styles of moustache, four varieties of partial beard and goatee combinations, and five categories of full beards.
The facial hair Olympics got its start in 1990 in Germany, and the German team typically dominates the event.

Photo gallery: best beards and moustaches »
This year's contest is the second time the World Beard and Moustache Championships have been held in the United States -- Carson City, Nevada, hosted the event in 2003.

Video: Contestants strut their stuff in Anchorage »

Since 1995, the contest has been held every two years. This year, competitors from 14 nations showed off their whiskers for the judges and a raucous crowd at the Anchorage venue.
Karl-Heinz Hille of Germany came in second overall with a first-place finish in the Imperial Partial Beard category, and Jack Passion of San Francisco, California, placed third overall with his winning entry in the Natural Full Beard category.
E-mail to a friend