By John D. Sutter
CNN





(CNN) -- Mohamed Desoky says his friends have mixed reactions when he tells them he's landed a seemingly stellar job on Wall Street.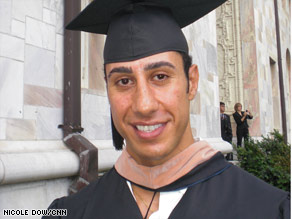 Mohamed Desoky, a recent MBA graduate, is going to work for the Royal Bank of Canada.
The financial sector has been hemorrhaging jobs, some friends point out. How is it possible that you found work in such a troubled field?
Others wonder whether the new Emory University graduate with a masters in business administration could be laid off shortly after his new career starts -- or even before his first day in the office.
"Really, the [economic] crisis originated on Wall Street, so to hear that someone secured a position on Wall Street is shocking," said Desoky, who is excited to take an investment banking job with the Royal Bank of Canada's New York office in July.
At a time when the financial sector is in disrepair and when many seasoned bankers can't find work, there remains a handful of new graduates who will start careers on Wall Street this summer.
Stories of investment-banking careers blossoming amid such economic uncertainty are not the norm, but some of those who have succeeded in getting Wall Street job offers voice almost unflappable optimism in the face of the bleak economic picture.

Interactive: Hear from three recent graduates »
Since March 2008, when the finance industry peaked, 67,000 jobs have been lost on Wall Street, said Marisa DiNatale, a senior economist at Moody's Economy.com. That left about 800,000 jobs in the industry by the end of April. Layoffs, bank closures and government bailouts dominate banking news these days, not new hires.
"If you think about a year ago or a year and a half ago, when these people were applying to business school, finance was still looking like the place to be, just in terms of the salaries and the bonuses and how much money everybody was making," she said. "I'm sure there is a huge disappointment" among recent graduates.
Between February 11 and March 11 of this year, half of all masters of business administration graduates had received at least one job offer. That's down from 62 percent during the same period in 2008, according to a survey of 5,214 students by the Graduate Management Admission Council, which administers the entrance exam for MBA programs.
Those who would defy the statistics often do so by remaining positive and hopeful, said John A. Challenger, chief executive officer of Challenger, Gray & Christmas, an outplacement consulting firm.
They also have to be flexible, he said.
"A lot of [graduating business students] are really cognizant of just how many of themselves and their fellow graduates are without jobs this year," Challenger said. "That being said, I think some are optimistic maybe because they're new and naïve and putting a good face on things -- and that's not all bad, because some of those people may be the ones who will find jobs." Share your job search story on iReport
Frank Albus, 29, an MBA student who graduates from the University of Chicago Booth School of Business in about a month, said most business school graduates are optimistic about the future of their industry.
"There are [jobs]," said Albus, who is among those with a job offer. "It's just a matter of just going out and making it happen."
On the other hand, Desoky's story is one of hard work and fortunate accidents.
He says his journey to Wall Street began when he jumped out of a plane and shattered his hip.
The 30-year-old was in the Army, standing in a plane and strapped to a parachute, something that's not new when you're in training for the Special Forces. This time, however, something went wrong.
When Desoky jumped, the parachute misfired, cracking his hip.
He landed safely but was in excruciating pain. A superior officer yelled for him to sprint back to an Army bus, where he would be taken to another plane for another jump. Not one to give up easily, Desoky staggered, parachute in hand, all the way to the bus. But he couldn't make the next jump and therefore couldn't continue with his Special Forces training, he said.
"At the time, it shattered my dreams," he said. "But now, in retrospect, it was a blessing in disguise."
Unable to pursue an Army career, Desoky decided to chase another dream: He entered business school.
Desoky is seasoned enough to recognize that hard work and some luck factors into his ability to turn his education and dramatic life experiences into a job on Wall Street.
He got the offer at RBC after completing a summer internship. To get that internship, he had to go through 48 interviews with many banks, he said.
Initially, Desoky had his sights set on Wall Street's largest banks, like Lehman Bros., Bear Stearns and Goldman Sachs. He was somewhat disappointed when he didn't land those internships but says that was fate in disguise. All of those banks have failed or are struggling. Several of his friends who got the most high-power banking internships now don't have work, he said.
Desoky feels fortunate to have the job, but the offer has created some problems for him. He said it's difficult to talk about the future with his peers at Emory who haven't been able to find work or who have seen their dreams derailed by the recession.
But he believes that, with time, things work out for those who keep at it.
In order to stand out at his internship, he showed up for work a week earlier than expected. Now, he said, he's already doing research that will prepare him to excel at his job this summer.

He said he's not getting into banking for the money, although he does admit that some friends look at his choice to get into the financial industry now with skepticism.
He wants to do whatever he can to help the economy recover. That way, he said, businesses will be able to again prosper, and people will have a better chance of chasing dreams of their own.
E-mail to a friend

CNN's Nicole Dow contributed to this report.
All About National Economy • U.S. National Economy • Economy.com Inc. • Emory University • University of Chicago