By Paul Vercammen
CNN





LOS ANGELES, California (CNN) -- Elizabeth Gore, with a voice soaked in motherly calm, counsels her suicidal caller.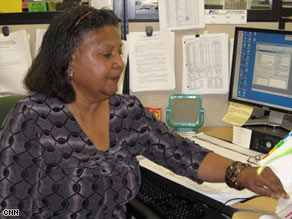 Elizabeth Gore tries to bring hope and encouragement to those who see no chance of a better future.
"You don't want to live if you can't find a job; I think we need to send you to an emergency room," Gore suggests through her headset.
Gore is among the counselors at the County Mental Heath ACCESS call-in center. Counselors there reckon with Los Angeles County's unemployment rate of 9.5 percent, among the worst in the nation.
"Well, it's a big deal when you tell me that you don't want to live if you don't find something," Gore stresses to her caller. "Do you realize what you're telling me? I am not trying to preach, but that's kind of frightening."
"Lot's of people don't have jobs," Gore continues with her caller. "You've applied for 200 jobs and only got one call back?"
"Well don't get too dismayed and too discouraged," Gore says. "We are going to get you some kind of counseling first."
Gore hangs in there with her caller like a bent nail. The suicidal woman agrees to go to a psychological evaluation set up by Gore, at a nearby clinic.
Callers reach the counselors at 800-854-7771 for free. It's the same number Mayor Antonio Villaraigosa firmly and clearly broadcasted, after the murder-suicide of seven people Tuesday in the working class neighborhood of Wilmington.
Erwin Lupoe and his wife, Ana, had been fired from their jobs a week before the Wilmington tragedy. But whether job loss stems from a firing or a layoff, the effects are traumatic.

Watch a report on the Wilmington tragedy »
"I don't think it's ever been this bad. Not in my tenure," Gore said. "Because the people that we're dealing with now, they have always had [money]. They went to school, they were able to get jobs. Now the jobs are not even out there."
Supervisors at the call-in center say many of these calls are not strictly about mental-health issues, but deal with lapsed medical insurance, foreclosure, bank problems and unemployment benefits.
Don't Miss
Gore is 70, a mother of five, with a master's in Health Administration Management and eight years of handling callers over the phone.
Los Angeles County Mental Health executives say a rising number of people who make that 800 call speak only Spanish.
Maricela Velasquez takes many of the Spanish calls, talking and typing while a little figure of a guardian angel seems to watch over her keyboard.
The counselor says there are barriers, because a lot of Latino callers want help but need an education about therapy and mental health.
"They start telling me, 'no soy loco,' I am not crazy," Velasquez explains. "They argue they don't need to go to a home for crazy people.
"A lot of the [Spanish-speaking] families do call because they have lost their jobs, or they know a family member who has lost their job. We try to assure them that everything is going to be OK and that it is normal for them to feel depressed."
Velasquez tries to help her some of her callers find the resources that can improve their employment situation, at times referring them to specific job training or job search sites.
And she and every other worker at this center want people to know, no matter how desperate and broke, that they can afford therapy.
As Velasquez points a caller to psychological help, one therapist is listed as costing between zero and $30 a session, depending on need. Another psychologist costs from $25 to $90.
The screen reads out the list of issues the therapists at clinics deal with, "child abuse, divorce, adult survivors of incest, family violence."
Velasquez wishes Lupoe, the man who killed his family and himself in Wilmington, had called her.
"We would have intervened," says Velasquez, who also has a masters' degree. "We would have sent a clinician out there right away, within an hour, even sooner. And we would have to contact law enforcement to help us. Especially if he's at the point of telling us at that time he would try to do something."

The phone rings again. Velasquez, Gore and others start their duty of soothing tortured souls.
Often it's as simple as getting someone to agree to lying down on a therapist's couch, so they won't soon lie down in a casket.
E-mail to a friend

All About Mental Health • Unemployment Rate • U.S. National Economy • Los Angeles