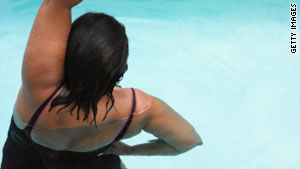 Children are rarely playing outside any more, setting themselves up for health problems later in life.
STORY HIGHLIGHTS
Obese children who have unusually high cholesterol risk heart disease as adults

Prevalence of overweight children and adolescents has tripled since 1970, study found

Mom of obese child says parents should not let food become a substitute for love

Kids aren't playing outside or at school as much as their parents

(CNN) -- Russell Pate was driving through a neighborhood one late afternoon when he noticed something odd.
He couldn't hear the sounds of children playing. No jump rope patter. No squeals of a bike's brake. No crack of a bat -- just silence.
The streets were deserted because the neighborhood kids were cocooned in their homes, Pate says. It was a scene he's seen over and over again.
"Now you can drive through entire neighborhoods where you know there are a lot of young kids there and hardly see any of them out," says Pate, an American Heart Association spokesman.
Pate's story reinforces what numerous medical studies say: American youths are getting less active and fatter. Medical experts say many of these couch-bound youths are becoming coronary time bombs -- they're more liable to suffer from heart disease as adults.
The coronary time bomb is ticking
Pate and other childhood obesity experts say more American youths are becoming obese because so many are addicted to television, video games, testing and fast food.
Obesity experts say the rise in childhood obesity isn't new.
The prevalence of overweight children and adolescents between ages 6 and 19 has tripled since 1970, a 2007 New England Journal of Medicine study found.
"Our study suggests that more of these young adults will have heart disease when they are 35-50 years old, resulting in more hospitalizations, medical procedures, need for chronic medications, missed work days and shortened life expectancy," said Kirsten Bibbins-Domingo, lead author of the study.
A study released last November at a Heart Association conference found that the neck arteries in obese and overweight children were similar to those of 45-year-olds. The children in the study also had "abnormal cholesterol" and were said to be at high risk for heart disease in the future.
Pate, who has testified about childhood obesity before Congress, says he can tell how American kids have changed by looking at old yearbooks.
"You see fewer overweight kids," Pate says. "There were some kids that were overweight in the older yearbooks, but the typical kid was leaner."
A mother's story
Though more kids may be overweight today, the stigma remains. Jenice Burgos is the mother of four children, including one 7-year-old girl, Haley, who has struggled with obesity.
Burgos says Haley, who weighs 124 pounds (she should weigh about 70, Burgos says), has been reduced to tears by classmates teasing her about her weight.
Burgos, who lives in Saline, Michigan, says her daughter's difficulty has made her and her husband feel guilty.
Don't let food become a substitute for the love and time you should give them.
--Jenice Burgos, mother of four children, including an overweight 7-year-old
"She can't eat unless I buy it, unless we make it," Burgos says. "Her eating pattern has been learned from us."
Burgos is changing that pattern now. She enrolled Haley in the University of Michigan's MPOWER program, which uses a team of physicians, dietitians and psychologists to help obese kids.
Haley went on a diet and started taking daily water aerobics and dance class, Burgos says. She's lost 9 pounds in a month, her mother says.
"Today is the first day she's been able to fit into a pair of jeans," Burgos says. "She was extremely happy. She was just like, 'Mom, look. They fit.' "
Burgos' advice to parents of obese kids is simple: Though it may be easy to save time by not cooking and by giving kids only the food they want, don't do it.
"Don't let food become a substitute for the love and time you should give them," she says.
A high school gym teacher tells her story
Childhood obesity experts cite another factor in the growth in childhood obesity: the declining number of physical education classes in public schools.
Lisa Summers, a physical education teacher, says many school districts nationwide have cut physical education classes in an effort to meet national academic standards.
With little encouragement from adults, many kids don't even seem interested in exercise when she sees them in class, says Summers, who has taught physical education at Black Hills High School in Tumwater, Washington, for 14 years.
"You have video games. You have computers -- kids are tweeting and texting," Summer says. "There's a lot of technology that promotes 'seat time' -- you just sit there."
Summers says the average youth should get about 30 minutes of exercise daily. But by the time she meets most teenagers in high school, Summers says, it's difficult to get them moving.
"Man, that's a tough task," she says. "We in high school look at ourselves as their last chance before they go into the adult world."
Some school districts may think that physical education classes have little to do with academic excellence. But being physically fit often helps students in the classroom, says Paula Keyes Kun, a spokeswoman for the National Association for Sport and Physical Education.
"The kids who exercise do better academically," Kun says, "because after being physically active, they can go back to their classroom, get focused and pay attention to what they've learned."
Getting kids to go outside
Childhood obesity experts mention common solutions for reducing childhood obesity: require more physical education classes, improve the nutritional value of school meals, encourage kids to play more sports and put away the video games and cell phones.
Pate, the Heart Association spokesman, says parents can do their part by telling their kids to go outside and play.
But what about parents who are afraid to send their kids out to play? Pate says that statistics show that kids are safer than they've ever been, despite the lurid headlines on cable news.
Unless parents live in an awful neighborhood, they should encourage their kids to play outside with others and take common-sense safety precautions, he says.
"I do worry that with the 24-hour news cycle and the tendency to expose everyone to very unfortunate incidents that occur in one place, that some parents become hypersensitive to safety concerns," he says.
Pate doesn't just draw on his medical expertise to advise parents. He cites his own life. He grew up in upstate New York, where his family didn't own a television until he was 5 years old, he says.
"I don't really remember what I was doing before 5, but it wasn't watching TV or surfing the Internet," he says. "Staying inside was not very interesting."
Pate's kept his active lifestyle as an adult. He's 62 now, but he's never abandoned his desire to keep moving. He has run in three U.S. Olympic Trials marathons and in the Boston Marathon.
But when he drives through America's silent communities now, he doesn't see many kids running. He's sorry that more kids don't live the life he once did.
"I really do think the norm was that kids came home from school at 3 p.m. and the mom said, 'Get out of here and be home for dinner,' '' he says. "There were a lot of good reasons for that norm."