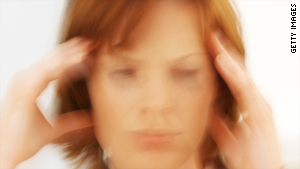 Nausea, vomiting, and kidney failure are some of the possible side effects from taking diabetes drug Byetta, the FDA said.
STORY HIGHLIGHTS
People with type 2 diabetes taking drug Byetta may be at risk for kidney problems
Byetta was linked to higher risk of acute pancreatitis, which is potentially life-threatening
Kidney symptoms can include changes in urine color, swelling in feet and legs, fatigue, nausea
(Health.com) -- People with type 2 diabetes who are taking the blood-sugar-lowering drug Byetta may be at increased risk for kidney problems, including kidney failure, the U.S. Food and Drug Administration reported this week.
The drug's label will be updated to warn doctors and patients about this possible side effect.
Byetta (exenatide) is a relatively new drug and was approved to treat type 2 diabetes in 2005. It's known as an incretin mimetic and is a synthetic version of a compound found in the venom of a Gila monster, a lizard in the southwestern United States.
Doctors wrote almost 7 million Byetta prescriptions between 2005 and 2008. The drug is injected, and patients and doctors tend to like it because it's easier to inject than insulin and can promote weight loss in some people.
Health.com: 5 healthy snacks for people with (or without!) diabetes
In 2007, Byetta was linked to a higher risk of acute pancreatitis, a potentially life-threatening inflammation of the pancreas. The symptoms are severe abdominal pain that is sometimes accompanied by nausea and vomiting.
Health.com: The pros and cons of Byetta for treating type 2 diabetes
In general, side effects of Byetta can include diarrhea, nausea, and vomiting, which may contribute to changes in kidney function, says Dr. Richard Hellman, the past president of the American Association of Clinical Endocrinologists, and a clinical professor at the University of Missouri--Kansas City School of Medicine.
"It is thought that the main reason nausea occurs is the effects of Byetta on the stomach," he says. "If someone starts vomiting, they can lower the volume of fluid in their body. If it gets to dangerously low levels, their kidneys could be damaged and kidney failure could take place."
Health.com: Diabetes-friendly desserts
The FDA received 78 reports of kidney problems related to Byetta, including kidney failure, between April 2005 and October 2008. Some patients already had kidney disease before they started the drug, but others developed kidney problems after taking Byetta. Overall, 91 percent of patients were hospitalized, 18 required dialysis, two had kidney transplants, and four died. Eighty percent stopped taking Byetta, and half of those patients had an improvement in kidney function after stopping the drug.
Health.com: Type 2 diabetes and alcohol: Proceed with caution
"The 78 cases represent a small percentage of the total number of patients using the drug to control blood sugar (glucose) levels," according to the FDA.
People with type 2 diabetes should always be aware of the signs of kidney damage, as high blood sugar is a leading cause of kidney disease.
Health.com: The 7 most common diabetes-related medical emergencies
Although kidney problems sometimes cause no symptoms at all, the symptoms can include changes in urine color, swelling that starts in the feet and legs, fatigue, nausea or vomiting, and trouble sleeping. Patients with any of these symptoms should talk to their doctor. If left untreated, kidney damage can worsen and turn into kidney failure, which can have serious affects on the heart, brain, and bones.
"Before any patient takes Byetta, they should ask their physician whether they have decreased function of their kidneys," Hellman says, "and whether their kidneys are functioning well enough that taking Byetta would not be hazardous to their health."
Copyright Health Magazine 2011