STORY HIGHLIGHTS
33-year-old doctor departs this week for yearlong medical mission on sailboat
Floating Doctors group aims to deliver medical supplies on environmentally friendly platform
Crew will sail to Haiti and several Latin American and Pacific island countries
Using sailboat will save on fuel costs and deliver medicine without relying on roads
(CNN) -- The dream started inside a gray canvas backpack.
When American medical student Benjamin LaBrot traveled to Tanzania in 2005, he hauled antiseptics, insulin syringes, VapoRub, gauze, ibuprofen and other supplies in his pack. At a Masai village, he treated wounds, parasitic infections, sores and other ailments until his once-bulging backpack was depleted.
"When your backpack is empty and there are still people that have to be helped, it's extremely disappointing," he said, recalling a line of nearly 60 villagers left waiting around him.
LaBrot vowed to return someday.
Four years after running out of medication and feeling powerless, the 33-year-old doctor departs this week for a yearlong medical mission. Although he won't be going to Africa, he'll once again lug his trusty backpack. And this time, he'll take along 20,000 pounds of medical supplies.
LaBrot, head of a nonprofit group called the Floating Doctors, will be at helm of a 76-foot sailboat that will carry supplies and 15 crew members to 15 countries in Latin America and the Pacific islands.
The Floating Doctors' mission is to provide medical relief in developing countries in an environmentally friendly platform. It will not rely on airplanes, shipping supplies or ground transportation.
Gesturing to the towering white boat, LaBrot said, "This vessel serves as the housing for our crew, the storing of our medical equipment and supplies, the transport for our crew and our supplies, the base for our laboratory and equipment."
LaBrot envisions a lean, green, self-sufficient machine maneuvering through waterways in Haiti, Belize, Guatemala, Honduras, Nicaragua and Panama. The boat, the Southern Wind, will also visit the Pacific islands: the Tuamotu Archipelago, Tonga, the Marshall Islands, Micronesia and Melanesia, which the organization contacted in advance of the trip.
The Southern Wind can travel 250 miles a day and requires little fuel, depending on wind conditions.
"Delivering health care from a green platform is our way of demonstrating that it's not really a question of more resources but a question of utilizing the resources we have as efficiently as possible to try and improve the delivery of health care," LaBrot said.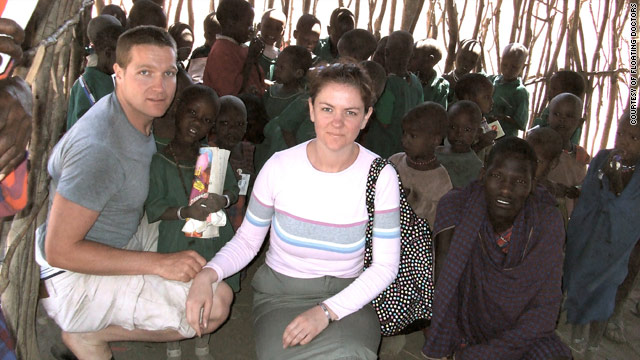 Gallery: Floating Doctors

Video: Sailing to save lives
LaBrot, soft-spoken with unkempt sandy hair, seems unfazed by the enormous project. Friends and family say he has mulled over the idea for years as he recruited medical school classmates, friends and his younger sister to join the Floating Doctors.
Long before he graduated from the Royal College of Surgeons in Ireland in 2006, he developed an interest in medical missions. As a boy, he watched as his father, Dr. George LaBrot, an internist in Santa Monica, California, departed for medical trips to Madagascar, Sierra Leone, Cambodia and India.
His father fully supports his son's vision.
"All of these projects that are successful are overly idealistic," the elder LaBrot said. "The number one defense mechanism of highly successful people is cognitive dissonance. They just refuse to believe it won't work."
There will be no floating for him, though.
"I really do get seasick," he said.
The father plans to volunteer -- on land -- when he flies to Belize to meet up with the Floating Doctors.
"They really are my heroes," the elder LaBrot said of his children. "Because they know what's important at a rather young age."
The Southern Wind's first stop is Cap-Haïtien, the second largest city in Haiti, where the crew plans to connect with Dr. Ted Kaplan, a pediatrician from Orlando, Florida.
Kaplan formed a network of clinics and health organizations in Haiti. The partnership with Cap-Haïtien Health Network and the Floating Doctors was a natural fit, because Kaplan was trying to find a sailboat to transport supplies, he said.
Shipping in Haiti is expensive and often unreliable. Transporting supplies is challenging, because the road conditions are "completely horrendous," Kaplan said. "Many of the roads got to the point of bare rocks. It's quicker to get around the country by boat, especially with towns around the coast. They're hard to reach by car."
Haiti is the poorest country in the Western Hemisphere, with 80 percent of the population living under the poverty line.
Kaplan said many have diarrheal diseases, malaria, malnutrition and minor illnesses that become serious because of the lack of treatment. The Floating Doctors will help distribute millions of chewable tablets used to deworm children when they arrive in mid-November, he said.
The Southern Wind leaves November 1 from St. Augustine, Florida.
Earlier in the summer, the crew loaded thousands of pounds of anti-diarrheal drugs, antifungal medications and vitamins, which will go to needy patients. Many of the supplies were donated by Direct Relief International, an organization that provides medical aid.
We're able to work hard and make this happen. It's going to reshape the rest of all of our lives.
--Nicholas Wansten
Since April, a volunteer crew of mostly 20-somethings has repaired the aging sailboat. The Floating Doctors bought a recreational boat from a Florida couple and transformed it to a working medical vehicle.
Drenched in sweat and sunburned orange, the crew worked power saws and sanders during a simmering, humid day. They came from all walks of life -- the Army, college, nursing school or emergency medical technician training -- and ended up in Florida wearing flip-flops.
"We're about to sail around the world and do something incredible," said Jon Resnick, a 24-year-old crew member, who took a year off from nursing school. "This is something people don't even dream about doing. And even when they do dream it, don't have it in them to go ahead and do it."
LaBrot's younger sister, Sky LaBrot, 27, initially thought her older brother was "insane" when he started the Floating Doctors, she said. To give sisterly support, she quit a glitzy Hollywood job managing beverages for bars and restaurants, and joined the crew as the director of operations.
Her father used to tell her, "To be truly happy is to live a life of service."
"I used to roll my eyes until now," she said.
She no longer has time to blow dry her hair or wear makeup as she did in her L.A. days, because she has fiberglass to lay and an entire boat that needs to be fixed. Now tied to a bigger mission, she said: "I've never been happier."
Nicholas Wansten, a hulking former Army cavalry scout, jumped at the chance to join the Floating Doctors. He has EMT training and someday hopes to be a pediatrician.
"Most of us are 23 or 24, right around that age," said the boyish 27-year-old. "But we're young; we're able to work hard and make this happen. It's going to reshape the rest of all of our lives."
Not all of them have medical training, so crew members will participate only to the limits of their training, Benjamin LaBrot said.
At departure, LaBrot will be the only floating doctor, but plans have been made to connect with a dozen physicians throughout the trip, he said.
When asked why the Floating Doctors decided to travel to foreign countries rather than the Mississippi Delta or other areas where Americans need medical attention, LaBrot said the urgency is much greater in places where "people die from diarrhea."
"Suffering is universal, and healing and medicine should also be universal," he said.