By Elizabeth Landau
CNN





(CNN) -- Your therapist's name is ELIZA, and she interacts with you through text on a computer screen. However embarrassing or difficult your problem may be, ELIZA will not hesitate to ask you a question about it, or respond graciously, "That is very interesting. Why do you say that?"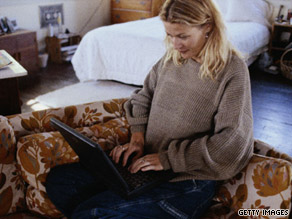 Internet-based therapy may help people who wouldn't otherwise seek the help of a psychologist.
Computer-based therapy has come a long way since ELIZA, a 1960s computer program designed to emulate (and parody) a therapist. Today, with the Internet, people can use the instant message format to communicate with real therapists.
A new study in The Lancet suggests that real-time chat therapy with a psychotherapist is successful in helping people with depression.
Participants were randomly assigned to either receive online cognitive behavioral therapy in addition to usual physician care -- which may include antidepressant medication -- or to continue their usual care and be placed on a waiting list. The intervention consisted of up to 10 55-minute sessions, five of which were expected to be completed by the four-month follow-up.
Of the 113 people who did online therapy, 38 percent recovered from depression after four months, compared with 24 percent of people in the control group. The benefits were maintained at eight months, with 42 percent of the online therapy group and 26 percent of the control group having recovered.
The level of benefit shown in the study is about the same as could be expected from traditional therapy, although the researchers did not compare the two as part of the experiment, said Dr. Gregory Simon, a psychiatrist and researcher at Group Health Cooperative in Seattle, Washington, who wrote the editorial that accompanied the study.
Experts say the Internet has enormous potential for psychotherapy, especially for reaching people who do not have access to in-person care.
"People may be more willing to talk about things that are embarrassing or stigmatizing if they're not interacting face to face" with a therapist, Simon said.
There is also evidence that writing about traumatic events may contribute to mental health, said Dr. David Kessler of the University of Bristol, United Kingdom, who was the lead author of the study. "We think that writing gives people time to pause and reflect, and that this may help the therapeutic process," he said in an e-mail.
Still, instant messaging has flaws -- therapists miss out on visual cues, gestures and speech intonations. Experts say it's probably not going to make in-office sessions obsolete.
"This is exactly the kind of study that we need to show that computerized and Internet-based psychotherapy can be effective, but that's a far cry from saying that this is going to replace psychotherapy," said Marlene Maheu, a psychologist in private practice in San Diego, California.
But there's plenty of room for both in-person and Internet-based psychotherapy, Kessler said.
Participants in the trial had already been screened by therapists before engaging in chat-based therapy, and had taken a written test to measure how depressed they were. "Careful evaluation is important using this medium as it is in any type of psychotherapy," Kessler said in an e-mail.
In a nonexperimental setting, however, practitioners offering online services may have difficulty screening faraway clients, Maheu said. This could lead to situations in which a psychotherapist gets sued because an online patient becomes violent or suicidal in a different state or country, she said.
Moreover, all psychotherapists must be licensed in the states in which they practice, and may unknowingly provide Internet treatment illegally to people who lie about their location, she said.
There are plenty of companies that advertise online therapy, but it is not seen as an alternative to traditional in-person psychotherapy, Simon said.
Besides instant messaging, other computer-based therapies require less or no interaction with a real therapist, he said. Like ELIZA, some are programs that operate without a therapist controlling them. Today, however, instead of just text, they may incorporate sophisticated graphics, video or the ability to create game-style avatars, he said. The cost of this to the patient would be much less than face-to-face therapy, but it's not clear whether it would be as effective, Simon said.
Another approach is more akin to e-mail, in which therapy takes place through messages between patient and therapist, but not in real time. This would also be less costly than in-person therapy because it would presumably require less time, Simon said. For a full live session over the Internet, the amount of time required is the same as an office session, so it may cost the same, or less, he said.
Generally, computer-based therapies are being marketed as stress management or employee assistance programs, Simon said.
Thomas Nagy, a psychologist in Palo Alto, California, said he has more confidence in therapy mediated by telephone or the Internet if the therapist and patient first meet face to face for evaluation and initial treatment.
Nagy has tried telephone therapy and video conferencing with patients whom he had already treated in his office, but who had moved away. Besides some technical difficulties with the video setup, he found it very much like a face-to-face meeting. But, essentially, "e-mail therapy is an oxymoron," he said.
Whether health insurance companies will cover Internet-based therapy will largely determine how popular it becomes, Simon said.
Maheu said that managed care companies have consulted her about Internet-based therapy, and that these companies are reluctant to incorporate these techniques because they have not yet been perfected. The funding for research in this field in the U.S. is mostly going toward video chat therapy, she said. The bugs that need to be addressed include improving the video quality so that therapists don't miss a split second of a patient's behavior, and sufficiently encrypting it so that the session is absolutely private.
"As soon as this is a reasonably sound mode of intervention, it's going to be integrated in health care," she said.
E-mail to a friend

All About Psychology • Artificial Intelligence • Cognitive Science • Instant Messaging • Mental Health Treatments