By Deena Zaru
For CNN





ROCKVILLE, Maryland (CNN) -- Foster children are provided with health care coverage by the state, but only until they turn 18 and "age out" of the public system.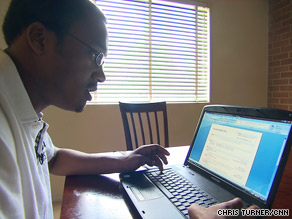 Foster child Jourdane Hamilton, 18, is being helped by an independent living program in Maryland.
Jourdane Hamilton, an 18-year-old from Rockville, Maryland, has been in the foster care system for the past two years. He says he cannot afford to lose his coverage, especially because he plays football.
"Football is very physical. In every single play you have to make sure you're protecting yourself because the game is ruthless and there is a high possibility of getting hurt," said Hamilton. "If I didn't have health care coverage I don't think I would be able to put myself in high-risk situations."
But Hamilton is in luck. He is able to train for college football because he participates in the FutureBound Independent Living Program (FILP), founded in 1995 by The National Center for Children and Families (NCCF) in Maryland, which ensures that he keeps his health insurance coverage until he is 21.

Watch how the program helps foster kids »
Hamilton played football for Walt Whitman High School in Maryland and is currently a freshman at Montgomery College, where he is training for college football.
He said that if he did not have access to health insurance he would not be able to play football or fully focus on his classes because he would be worried about getting hurt and paying for his basic needs.
"Having health insurance definitely takes a load off my mind. I know that if I had to deal with that stressor all by myself, I wouldn't be able to accomplish as much," said Hamilton.
Hamilton aspires to be a physician and says that FILP allows him to put in the effort, money and time that he needs to do well in school because it provides him with financial support and guidance.
"This program has helped me transition from high school," said Hamilton. "They make sure you pick the right classes, learn to cook, clean, save and budget properly and find an apartment so that you are competent when you turn 21 and age out of the program."
Don't Miss
FILP currently provides 21 foster kids with housing and a $200 monthly stipend for food, hygiene products and clothing, as well as an extra $150 per month if they complete their required 20 life-skill hours.
This support enables them to focus on attending college and starting a career.
All 21 adolescents live in the same apartment complex, as FILP provides them with eight two-bedroom and six one-bedroom apartments. While supervisors do not live in the complex, staff member supervision is available 24 hours a day.
While those who utilize FILP are required to have a job, Hamilton is currently unemployed but has been actively looking for a job for four months. He said that programs like FILP are essential, especially during this economic downturn.
"Even college graduates are having a hard time finding employment since everyone is competing to find a job in these tough times," said Hamilton. "People are fighting to be bag boys at supermarkets."
His supervisors at FILP assist him in job hunting, writing resumes and making sure he is actively looking for a job.
Hamilton has applied to at least 60 jobs, from office jobs to jobs in the food services industry, but has only heard back from a few and only been on two or three job interviews.
Until he finds a job, FILP is his primary means of survival.
While Hamilton is able to maintain his state-provided health care coverage until age 21 if he completes the requirements of an independent living program such as FILP, thousands of other foster kids cannot. Such programs are unavailable where they live. Therefore, they get discharged from the public system at age 18 and lose their health care coverage.
"At 18 they are out on their own and have to find a way to pay for their own insurance, so most are uninsured," said Hamilton. "I'm in a program where a lot of services are available to me, and I think every foster kid should have access to a similar program."

Hamilton said that if he lost his coverage and was responsible for paying for his own plan, he would not be able to afford private insurance.
"I would have to wait until Congress passes a universal health care bill," said Hamilton. "I hope this happens soon."
E-mail to a friend

All About Health Care Policy