By Thom Patterson
CNN





(CNN) -- The crew aboard the Delta Boeing 737 had an in-flight emergency on their hands: Ben Van Doorn was having a heart attack, and a doctor was trying to save his life with an onboard medical kit.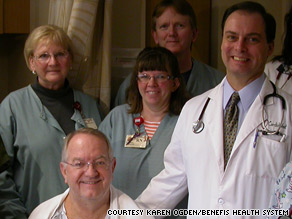 Dr. Anthony Galeo, right, after performing an emergency angioplasty on Ben Van Doorn, left, last February.
"The pain was like a truck sitting on my chest," said Van Doorn, 63, a fleet support manager at Boeing. The doctor -- a fellow passenger -- treated Van Doorn from the medical kit, including giving him aspirin and telling him to chew it.
Within 90 minutes, the aircraft made an emergency landing at Great Falls, Montana, and Van Doorn was raced to the hospital. "They rushed me into the cardio lab, and that's when I passed out," he said.
In layman's terms, Van Doorn's heart essentially stopped six times at various points during the emergency, said Dr. Anthony Galeo, who performed an angioplasty procedure on Van Doorn at Benefis Health System hospital.

Watch more on the in-flight drama »
"There's a high likelihood that aspirin contributed to saving his life," Galeo said. "Can we say that with certainty? No. But there are studies that show that taking aspirin at the onset of a heart attack does improve survival."
"It was a couple of miracles that happened to me that day," Van Doorn said. "There was a doctor on board, and the plane diverted to a hospital where they were able to perform the angioplasty."
During the angioplasty, Galeo removed a clog in Van Doorn's right coronary artery by inserting and inflating a tiny balloon.
"The sooner you get aspirin after a heart attack, the more quickly the body absorbs it," Galeo said. "So it can limit the extension of a heart attack, and it aids us in performing a primary angioplasty."
Five months later, Van Doorn, who has a family history of heart trouble, says he feels fine. His physician has prescribed a daily aspirin regimen of 325 milligrams, a significant increase from the 81 milligrams he was taking before his heart attack.
Van Doorn's case calls attention to the benefits of aspirin among many heart patients and heart attack survivors.
Americans clearly are aware of these benefits. About one-third of the adult U.S. population -- more than 50 million people -- take aspirin to prevent heart disease.
But doctors are quick to point out that the century-old drug is a double-edged sword. Although aspirin can fight blood clots that can cause heart attacks and strokes, high doses can increase the risk of bleeding. This can lead to gastrointestinal bleeding and strokes caused by bleeding, known as hemorrhagic strokes.
Like many people who worry about strokes and heart attacks, Van Doorn began taking aspirin six years ago without initially consulting his health care provider.
"I read it somewhere it's not bad to do," he said. "It's not harmful, and it only can help you, and of course I had a family history of heart disease."
But a daily aspirin regimen isn't healthy for everyone, and doctors say people should take more care when they decide to self-prescribe. They say it's important to take aspirin daily only in consultation with a doctor or other health care provider.
"It's not something to play around with," said Dr. Mark Johnson, president of the American College of Preventive Medicine. "It does need to be taken seriously." Self-prescribing a daily aspirin regimen is unwise and widespread, he acknowledged.
General guidelines call for men ages 45 to 79 and women ages 55 to 79 to take aspirin if benefits, such as preventing heart attacks or strokes, outweigh possible problems, such as gastrointestinal bleeding, Johnson said. Health.com: Should I take aspirin against heart attacks?
And while taking an aspirin in the event of chest pain is widely accepted to limit a heart attack, taking an extra aspirin with the onset of stroke-like symptoms can worsen a stroke if it causes bleeding into the area of the brain experiencing the acute stroke.
Another reason against self-prescription of aspirin is that for many people, the drug has very little effect.
It may be that up to 20 percent of people who take aspirin don't benefit from it at all, according to research by Dr. Francis Gengo of the Dent Neurologic Institute, and the University at Buffalo, State University of New York.
Being resistant to aspirin makes patients four times more likely to suffer a heart attack or stroke or even die from a pre-existing heart condition, compared with nonresistant patients. Health.com: Heart attack risk calculator
"If you're taking your aspirin along with anti-inflammatory agents -- say ibuprofen -- it will negate the effects of the aspirin," Gengo said.
Some self-prescribers may be unaware of how aspirin interacts with over-the-counter supplements and herbal remedies. Saint John's wort has some anti-clotting effects, Galeo said, and it may exacerbate the risk of dangerous bleeding if taken along with aspirin.
"Someone who has a history of peptic ulcer disease or gastritis may actually make things worse by taking agents that increase their bleeding risk," Galeo said. "Make sure you talk to your physician to make sure that anything you take isn't interacting with your prescribed medications."
Other patients may forget to take their aspirin, and in some patients, aspirin isn't absorbed into the bloodstream well. Doctors can use a test to see how well aspirin is being absorbed.

"The mechanisms for aspirin resistance are varied, and they're not really very well understood," Gengo said. Possible factors include genetic differences, effects of other diseases and blood flow around abnormally narrow vessels. "It can be a whole array of things," he said.
Doctors say that more study is needed on the effects of aspirin and other anti-platelet drugs such as the highly prescribed Plavix. As 20 percent of the U.S. population is expected to be above 65 years old by 2030, finding new ways to combat the risk of heart attacks and strokes could have widespread benefits.
E-mail to a friend

All About Heart Attacks • Montana • State University of New York at Buffalo