By Elizabeth Cohen
CNN Senior Medical Correspondent





(CNN) -- Hope Murray thought her prayers had been answered.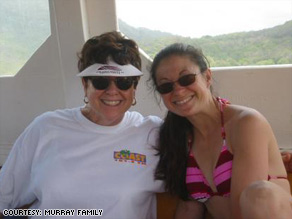 Hope Murray, left, was desperate to find affordable health care for her daughter Meredith.
Her daughter, Meredith, desperately needed to see a doctor after suffering a brain injury in a car accident, but health insurance companies wouldn't sell her a policy because of her pre-existing condition.
So Murray was relieved to find Direct Medical Network Solutions Inc. while surfing the Internet. It wasn't insurance but a program that advertised deep discounts at doctors' offices and hospitals.
Murray immediately signed up for the program, which she says advertised $30 doctor visits and $50 visits to specialists.
"It was pretty phenomenal," Murray said. "They promised me everything was included," including doctor visits, vision, dental and hospital stays. "They even mentioned the Mayo Clinic."
Murray paid $314 for the card up front and then $179 each month after that.
Her daughter made an appointment to see Dr. Robert Epsten, a San Diego, California, gastroenterologist, to get treatment for her Crohn's disease.
Epsten was listed on Direct Med's Web site as being part of its network, but when Meredith arrived at Epsten's office, his staff said they didn't accept the Direct Med card. In fact, they said they'd never even heard of Direct Med, Hope Murray says.
According to Murray, this same scene played out with several other doctors and hospitals.
"I have never been more angry, more furious about anything in my life," Murray said. "It is a bogus scam that hurts people. It should be a crime for people to do that."
Don't Miss
The Federal Trade Commission and at least eight states have taken action against more than two dozen health cards for offering discounts services that don't exist.
"Medical discount cards are spreading like kudzu," said Jim Quiggle, a spokesman for the Coalition Against Insurance Fraud. "There's a tremendous amount of fraud and deception in these plans because they're not well regulated."
"Medical discount cards are awful," said Nancy Metcalf, senior program editor with Consumer Reports. "They're absolute ripoffs. I would stay away from them completely."
Two to 4 million people have purchased health care discount cards like the one Murray bought, according to the Consumer Health Alliance, a trade group representing companies that sell the cards.
The group acknowledges that there are some dishonest companies out there but says they do not reflect the majority of the industry.
On its Web site, Consumer Health Alliance has set up a consumer guide for shopping for a discount health care program. The cards are attractive to people like Murray who don't have health insurance from their jobs and can't buy it on their own.
"Members stay in these programs because they see the savings," said Allen Erenbaum, a lawyer for the Consumer Health Alliance. "Discount health care programs aren't the answer to this country's health care crisis, but for people without any access to insurance, saving money with these programs is better than nothing."
Hope Murray canceled her daughter's card in March, three months after signing up. Meredith, who recently received a master's degree in rehabilitative counseling, is now looking for a job with health benefits.
Repeated phone calls and e-mails seeking comment from Direct Med have gone unanswered. Epsten is still listed on Direct Med's Web site as an in-network doctor, but when CNN called his office, his staff said they didn't accept the card.
The National Association of Insurance Commissioners says that although some discount cards are fraudulent, others are legitimate. Here are some tips to know a good company from a bad one.
Consumer advocates say you should suspect a scam if:
1. You learn of the discount card from a blast fax or Internet popup ad.
The National Association of Insurance Commissioners considers this a red flag that you're about to be scammed. You can read the rest of the warnings on its Web site.
2. They promise a certain percentage savings.
"A 30 percent discount means nothing. Thirty percent off of what?" Metcalf asked.
3. They use the term "guaranteed coverage."
This makes the card sound like insurance, which it's not, says the Coalition Against Insurance Fraud. The coalition also lists other scam alerts on its Web site.
4. They won't give you a list of providers until you sign up.
The discount card company should tell you the providers up front. If they won't, hang up the phone. If they do, call the providers and verify that they take the card.
5. It sounds too good to be true.
"If you've looked into getting regular insurance and gotten a price, and then you find something way cheaper, that's a huge red flag," Metcalf said. "It's cheaper for a reason."
E-mail to a friend

CNN's Jennifer Pifer Bixler and Sabriya Rice contributed to this report.
All About Health Care Issues