By Elizabeth Cohen
CNN Senior Medical Correspondent





(CNN) -- Perhaps no one is watching the Daniel Hauser case in Minnesota more closely than Theresa and Greg Maxin in Ohio. Seven years ago, the Maxins found themselves fighting to keep their own son from having chemotherapy. But the two families' stories ended quite differently.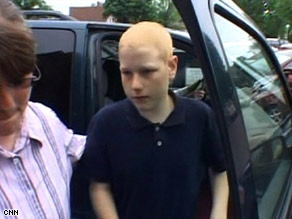 Daniel Hauser was ordered by a judge on Tuesday to undergo chemotherapy.
Like Daniel, Noah Maxin had a blood cancer doctors said would almost surely kill him if he didn't have chemotherapy. Like the Hausers, the Maxins rejected the doctor's recommendations in favor of supplements and other alternative treatments to boost his immune system. Both cases wound up in courtrooms.
But the similarities end there. A Minnesota court ordered Colleen and Anthony Hauser to have their son undergo chemotherapy and possibly radiation. The Maxins, however, won their case, and for a time gave Noah, who was then 7 years old, only alternative treatments.
"Our heart goes out to the Hausers," says Theresa Maxin. "They obviously weren't heard by their medical team. We felt the same way."
While the Hauser case is an example of the court going against parents' wishes, there are several cases, like the Maxins, where courts have allowed families to reject a doctor's recommendations for life-saving treatment.
"Parents really do have a lot of rights," says Gregory Beck, the Ohio lawyer who represented the Maxins. "But they have to be willing to advocate for them and provide strong alternatives."

Watch more on parental rights »
In a situation where the child's life is not in danger, parents have quite a bit of leeway, says George Annas, chairman of the Department of Health Law, Bioethics, and Human Rights at the Boston University School of Public Health.
"Even with a cleft palate, if the parents don't want their child to have the surgery to correct it, most courts would side with the parents, and let the child make the decision when he becomes an adult," Annas says.
Even when a child is in imminent danger of dying, parents have the latitude to reject potentially life-saving treatments if they're experimental, or if the parents can show an alternative treatment would work just as well, says Art Caplan, director of the Center for Bioethics at the University of Pennsylvania.
Children can, on occasion, also have their wishes heard. Teenagers who are found to be "mature minors" have sometimes been allowed by courts to reject life-saving treatments, Annas says.
"Mature minors" are usually at least 15 years old and "can understand the nature and consequences of their decisions," says Annas.
Courts have also sided with families in life-or-death situations when the parents find a licensed physician willing to administer the alternative medicine they're seeking.
This was the case with the Maxins, who found a doctor specializing in holistic medicine to oversee Noah's treatment with supplements and a special diet -- and no chemotherapy.
"The Maxins are warm, engaging, intelligent people, and very well-read on the issues. They exhaustively researched everything," says Beck.
The Maxins say they agreed to an initial round of chemotherapy for Noah only because they felt "threatened" and pressured by time constraints.
The day he was diagnosed, the Maxins say a social worker came into Noah's hospital room and said they would begin the process of giving him chemotherapy immediately. "I told her we believe in holistic and alternative therapies, and we wanted to take him out of the hospital," Theresa Maxin says. "But she told us there would be legal implications if we tried to do that. We felt like we'd been put in a corner, like we'd been boxed in."
A mother who successfully fought to keep her child from having chemotherapy says many other parents she knows have also felt rushed to make decisions.
In 2005, a Virginia court allowed Rose and Jay Cherrix to stop using chemotherapy on their son, Abraham, who had Hodgkin's lymphoma. He'd already had three months of chemotherapy when the Cherrixes decided they wanted to try alternative treatments instead. The court agreed as long as an oncologist supervised his care.
Cherrix, who turns 19 next month, took vitamins and supplements, followed a special diet, and in addition had several rounds of radiation. After his court case, the Virginia Legislature passed a law allowing teens over age 14 to have a hand in making their own medical decisions.
Rose Cherrix says she's spoken to Colleen Hauser and other parents who want to defy doctors' orders. Her advice: Don't feel coerced into making a quick decision. "There's always the pressure that you have to do something right now, and that's not true," she said.
The Maxins' lawyer agrees. "No one would have gone to jail if they'd taken Noah out of the hospital to see someone else. You don't have a whole lot of time, but you do have some time," Beck says.
Health Library
Four years after the court case, Abraham Cherrix says he is now in good health.
As for Noah Maxin, after his leukemia diagnosis, he underwent alternative treatments and chemotherapy simultaneously for one month. The cancer went into remission, and his parents won the right to take him off chemotherapy in October 2002. For the next five months, he used only alternative treatments.
When the leukemia returned in March, his parents chose to put him back on chemotherapy. He went into remission again, and was healthy for three years.

In April, 2006, the cancer came back. Noah received aggressive chemotherapy and died 14 months later at age 11.
His parents say they've asked themselves if Noah might have survived if he'd received the chemotherapy doctors recommended from October 2002 until March 2003. "I'll consider that for the rest of my life. There's no way of knowing," Greg Maxin said. "But we made the decisions for our child. At the end of the day, it was us. Not the state or the government, but us."
E-mail to a friend

Jennifer Pifer Bixler contributed to this report.
All About Cancer • Pediatric Cancer • Alternative Health Care