By Madison Park
CNN





(CNN) -- As the summer swim season starts Memorial Day weekend, water quality and health experts have a message for swimmers: Please don't pee in the pool.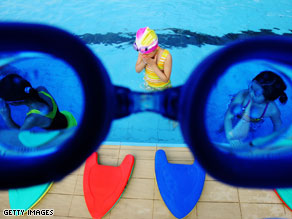 About one in five adults in a survey reported urinating in community pools.
Although urine in the water probably will not cause swimmers to go to the emergency room, it causes "more of a respiratory, ocular irritation: the red puffy eyes or a cough, an itchy throat," said Michele Hlavsa, an epidemiologist in the division of parasitic diseases at the Centers for Disease Control and Prevention."A big health message is not to urinate or pee in the water."
And it happens far more frequently than water-lovers would like to think.
In a survey of 1,000 U.S. adults conducted in April and May, 17 percent admitted relieving themselves in a swimming pool. Even the Olympics' most decorated swimmer, Michael Phelps, confessed to urinating in the water to TV host Jimmy Kimmel. In a 2008 interview, Kimmel asked the 14-gold medal winner, "You pee in the pool, true?"
"Yeah," Phelps replied.
"Which nationality pees in the pool the most?" Kimmel asked.
"Probably Americans," Phelps said.
"Oh, so we're number one in that too," Kimmel quipped.
Pool Etiquette
Don't swim when you have diarrhea

Avoid swallowing pool water

Shower before swimming

Wash your hands after using toilet or changing diapers

Take children on bathroom breaks or check diapers often

Change diapers in bathroom and not at poolside

Source: CDC
Sometimes, an indoor swimming pool will emit a strong chemical smell. The swimmers have coughs or red, stinging eyes after emerging from the pool. Usually those symptoms get dismissed as the effects of chlorine, but their causes are something more organic.
When swimmers sweat or urinate in the pool water, the bodily fluids combine with the chlorine. It creates chloramines, which causes the strange odor and the eye and respiratory irritations for swimmers, according to the CDC.
No matter how discreet the act may be, "you're contaminating the pool. Let's face it," said Linda Golodner, the vice chairwoman of the Water Quality and Health Council.
The survey released by Golodner's group, which advises the American Chemistry Council, found that 11 percent of the surveyed adults said they have swum with a runny nose, 7 percent with an exposed rash or cut and 1 percent when ill with diarrhea. The margin of error was plus or minus 3.1 percentage points.
The most common recreational water illness is spread through diarrhea. One of the most persistent problems is Cryptosporidium, a parasite that causes diarrhea and can be found in infected stools.
"With Crypto, if you have diarrhea, it's very watery," Hlavsa said. "It's not a formed stool sitting in the pool or floating on top. It could be very watery, and no one [in a pool] would know."
During the past two decades, Crypto has become one of the most common causes of waterborne illness.
Unlike E. coli and salmonella, Crypto can resist chlorine. In 2007, the parasite sickened more than 1,200 people who had visited recreational water facilities in Utah.
According to the CDC, if someone swallows water that has been contaminated with feces, he or she may become sick even if very little water is consumed.
The agency also recommends that people shower before a swim, because most people have traces of feces on their bottoms, which can contaminate recreational water. In the Water Quality survey, 35 percent reported skipping a shower before swimming.
Recreational water illnesses have been on the rise for the past two decades, according to the CDC. From 2005 to 2006, the agency reported 78 outbreaks of recreational water illnesses associated with swimming pools, water parks, hot tubs, lakes, rivers and oceans that affected 4,412 people and resulted in 116 hospitalizations and five deaths.
Melanie Arthur, a mother of two in The Woodlands, Texas, maintains a swimming pool where her children play.
"We are going to great lengths to train our 3-year-old to not go potty in the pool but to get out and go inside the house," Arthur said. "After maintaining our own pool, I hesitate to go to public pools. I am certain that they are not nearly as clean as my own."
Just practice good hygiene when going for a swim, Hlavsa advised.
"It's all about balancing risks," she said. "We think swimming is a great way to be physically active with family and friends." Check the CDC Web site for more on healthy swimming
And remember, if you pee in the pool, you have to swim in it, too.
Here are tips to make sure the pool is clean:
• Look at the pool to see whether it's clean and clear, and the drain is visible.
• Listen for pool equipment, because the pool pumps and filters should make noise.
• Feel the tiles and pool sides. They should not be sticky or slippery.
• Beware of a strong chemical odor. A well-chlorinated pool has little odor.
E-mail to a friend

All About Competitive Swimming • Centers for Disease Control and Prevention • Michael Phelps