NEW YORK (CNN) -- New York had closed 30 schools as of Thursday -- and one private school closed on its own -- after an increase of reports of students with flu-like symptoms, city health and education officials said.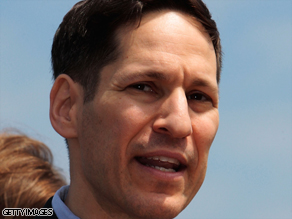 Health Commissioner Thomas Frieden: "We continue to see a rising tide of flu in many parts of New York City."
Twenty-eight of the schools closed at the recommendation of the health department are public and two are private, the health agency and the city's education department announced in a news release.
In addition, one private school in Manhattan -- Horace Mann -- has decided to close on its own after a number of students exhibited flu-like symptoms, according the school's Web site.
Of the 30 schools closed by the Department of Health, five will re-open Friday, according to the news release.
In the city's news release, city Health Commissioner Thomas R. Frieden repeated what has become a familiar refrain: "We continue to see a rising tide of flu in many parts of New York City. As the virus spreads, we will look to slow transmission within individual school communities by closing individual schools."
Late last week the city closed 11 schools in Queens and one in Brooklyn after confirming cases of the H1N1 virus, commonly called swine flu, at Intermediate School 238 in Queens and unusually high levels of flu-like symptoms in the others.
An assistant principal of Intermediate School 238 died Sunday after being hospitalized with H1N1. Frieden has said the administrator, Mitchell Wiener, had an underlying condition.
E-mail to a friend

CNN's Deb Brunswick contributed to this report.
All About Swine Flu • Centers for Disease Control and Prevention