By Anne Harding





Women with breast cancer in the United States have an average age of 63 when they are diagnosed, and the disease is more common in older women than younger.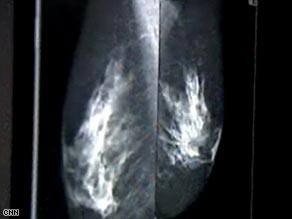 Despite conventional thought that older woman cannot tolerate chemotherapy, it helped them live longer.
However, researchers have long left older women out of clinical trials due largely to concerns that they can't tolerate toxic therapies. In practice, these older patients may not even be offered potentially lifesaving chemotherapy.
Now a new study in women 65 and older published this week in The New England Journal of Medicine shows that women with early-stage breast cancer who are treated with chemotherapy along with surgery will likely live longer than those who aren't.
Although the toxic effects of chemo in the study were no picnic, most of the women participants ultimately "did fine," said Dr. Hyman B. Muss of the University of North Carolina at Chapel Hill's Lineberger Comprehensive Cancer, who led the study.
Muss and his team randomly assigned 600 women to one of three therapies including standard mixes of chemotherapy drugs delivered in an IV drip or capecitabine, an oral drug that is effective in treating late-stage breast cancer. Most of the women were in their 70s and only a few -- about nine patients -- were 80 or older. The researchers halted the trial early when they found that the older chemo mixes, including cyclophosphamide, methotrexate, and fluorouracil, or cyclophosphamide plus doxorubicin, were more effective than the pill. Health.com: I survived male breast cancer
Women on capecitabine were twice as likely to die as women on standard chemo, and twice as likely to have their cancer return, Muss and his team found. Three years into the study, 68 percent of the patients given capecitabine were still alive and had not suffered relapses, while 85 percent of women on standard chemo were surviving cancer-free. Health.com: 5 simple things that could cut your breast cancer risk
Although it was more effective, standard chemo was also harsher. Nearly two-thirds of women taking it experienced moderate to severe side effects, compared to one-third of women taking capecitabine. The side effects included nausea, vomiting, low blood counts, and diarrhea. Low blood counts were more common in older patients, but otherwise prevalence of these side effects was similar in both older and younger study subjects, Muss said. Health.com: How chemotherapy works and whether it's right for you
Only about 62 percent of patients were able to complete treatment with cyclophosphamide, methotrexate, and fluorouracil, compared with 80 percent of those taking capecitabine. However, two capecitabine-taking patients died due to treatment side effects, compared with none of the women taking the traditional chemotherapy drugs.
Older women who are vulnerable or frail would probably have more side effects than the women in the study and chemotherapy drugs "should be administered with caution or not at all" in such women, the authors wrote. Health.com: Where the money goes- a breast cancer donation guide
"The conclusions of the study confirm that adjuvant chemotherapy for breast cancer in women 65 and over should be carefully considered by patients and their doctors," Dr. Len Lichtenfeld, deputy chief medical officer at the American Cancer Society, said in an email. Lichtenfeld was not involved in the study. "The study also shows that, as of now, there is no simpler, less toxic therapy that could be offered to these women that would still be effective."
Although researchers are getting better about including older women in clinical trials and doctors are getting better about discussing a variety of treatment options with their older breast-cancer patients, bias remains, said Muss. Some doctors won't bother referring their oldest patients to a specialist for cancer treatment, he said. "Even some specialists tend to lowball the older people, feeling 'well, maybe she's too frail for this,' and frequently don't even get the patient input," Muss said. Health.com: 5 tips for living well after breast cancer
Health Library
Doctors and nurses need to drop this "patronizing" attitude and stop letting age alone disqualify breast-cancer patients from getting treatment that could extend their lives, Muss said. "We're going to see more and more cancer in older patients and we need to continue to do research in this area to learn the best ways to take care of them," he said.
The study was funded by the National Cancer Institute, the National Institute on Aging, the Breast Cancer Research Foundation, the Coalition of Cancer Cooperative Groups, and Roche Biomedical Laboratories. Muss and other study authors have received consulting fees from Hoffman-La Roche.
E-mail to a friend

Enter to win a monthly Room Makeover Giveaway from MyHomeIdeas.com
Copyright Health Magazine 2009
All About Breast Cancer • Cancer