By Jessica Ravitz
CNN





(CNN) -- It's about the time of year when many of those with seasonal allergies are starting to grumble.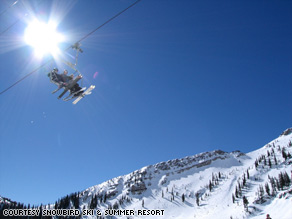 When snow falls, pollen doesn't -- making ski resorts like Snowbird a great destination for those with allergies.
Armed with tissues, medications and sinus rinses, they may curl up on the couch -- when not suffering through the workday -- simply riding it out until the season passes.
But because the immune system is attuned to, for example, the pollen from local trees and grasses that it knows, switching one's environment can sometimes be a great source of relief, allergists said.
How's that for an excuse to take a vacation?

See map of nation's worst allergy cities »
"You have to get away from where you are now," said Neil Kao, an allergist in Greenville, South Carolina. "The farther away you go, the better off you'll be."
This doesn't mean, of course, that you can jet off without worry. Packing your medications, bringing a special pillow if you have one, requesting an "allergy-proof" and nonsmoking room are just some ways you can boost the chances that allergies won't spoil your travels.
Organizations such as the American Academy of Allergy Asthma & Immunology and the Asthma and Allergy Foundation of America offer detailed traveling guidelines for allergy sufferers.
Heeding the doctor's advice about geographical trip planning, CNN presents five travel destination ideas that may be worth considering.
Hit the slopes
If allergens are raining down on you, for instance, in the South, snow can bring a great respite.
This winter and spring dumped loads of snow across the nation, and places like Snowbird Ski & Summer Resort in Utah are reaping the benefits. The mountain resort has already gotten 560 inches of snow this season and is expecting 20 more Tuesday, spokesman Jared Ishkanian said.
"We're seemingly never going to close," he said with a laugh.
Don't Miss
Realistically, the lifts should stay open at least through Memorial Day weekend, but the resort, which is known for having one of the longest seasons in America, has seen people celebrating the Fourth of July in skis and shorts. With the peak season over, the deals for ski passes and hotel stays are many.
Float out to sea
Another idea that might do the allergy-riddled body good, no matter the home region, is to flee the greenery and head to sea.
Consider a cruise to any number of destinations, among them the Caribbean, Alaska, the Galapagos or Russia. These all-inclusive trips can whisk you away for a weekend or much longer and can be accessed at all kinds of prices.
Cruise.com, an online site that specializes in this sort of travel, offers information from 99 cruise lines with 25,000 sailing options.
As you stand on deck, with a fruity drink in one hand and a shuffleboard stick in the other, you can smile knowing you've left pollen in your wake.
Kick up some sand
If you don't have sea legs and would rather stay firmly planted on land, a nice beachfront breeze can also offer relief.
Thinking about what Kao said, you might want to roll out your towel on the opposite side of the country.
So, for example, if you live in the Northwest or Northeast, consider a jaunt down to South Florida. California may be calling if you're anywhere east of the Mississippi. Someone in Texas might want to head north to a place such as Maine, while a Midwesterner might hit one of the Carolinas.
Wander the desert
If you can take the heat that starts in spring and increases through the summer, desert destinations can free you from the foliage that plagues you.
Beware, however, of the misconception that the Southwest is allergen free.
Phoenix, Arizona, for example, used to be a top destination recommendation for those who had bad allergies, said Stanley Fineman, an allergist in Atlanta, Georgia.
The problem is that people listened, moved there, and "They brought the plants [and pollen] with them," he said.
Kao said, "They literally made the area into the biggest greenhouse imaginable."
Other desert destinations may be better for those seeking an allergy escape. Some national parks to consider: Joshua Tree in California, Zion in Utah or the Grand Canyon in Arizona.
Explore an urban jungle
If greenery is what brings you down, consider trading in trees for skyscrapers.
Between the restaurants, theater, shopping and nightlife, you might be able to lose your tissues in a city like New York.
The pollen count may be significantly lower, but that doesn't mean the wind doesn't carry some there or that other irritants (think pollution) floating through the air won't take a toll, Kao warned.

"A big city is a wild card," he said.
It's for that reason that he reminds those with allergies to be prepared, with prescription medications and over-the-counter remedies, no matter the destination.
E-mail to a friend

All About Allergies • Travel Destinations