By Otis Brawley, M.D.
CNN





Dr. Otis Brawley, chief medical officer for the American Cancer Society, led the National Cancer Institute's Prostate Cancer Prevention Trial. He is CNNhealth.com's Conditions expert.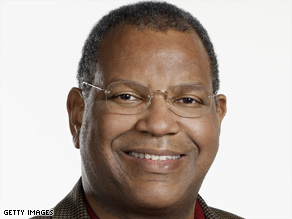 Dr. Otis Brawley says prostate cancer screening is a personal decision but should be an informed one.
(CNN) -- Over the past 20 years, my research interests have focused on prostate cancer. An important question that has plagued us is, "Does prostate cancer screening save lives?" Prostate cancer screening is extremely controversial and is an emotional issue. Two studies published this week in the New England Journal of Medicine address the question: These two studies may not end the controversy, but clearly provide needed information. Perhaps I can provide some prospective given my experiences.
How did the controversy evolve?
In the United States and Europe, prostate cancer is a major cause of suffering and death. An effective screening test and an effective treatment are needed.
The prostate specific antigen, or PSA, is a blood test developed in the early 1980s. A study published in 1991 showed that the PSA and digital rectal examination could be used to identify men with prostate cancer. Clinical studies showed that about a third of men with a PSA over 4.0 had a localized prostate cancer -- cancer still confined to the prostate -- upon biopsy. Prostate cancer that has spread beyond the prostate often leads to death. Studies showed that localized disease can be cured, but ironically, never addressed the question "Do the cured cancers actually need to be cured?"
Starting in the early 1990s, numerous celebrities came forward with testimonials about screening, diagnosis and undergoing treatment. Community organizations and medical centers offered free mass screening in malls, at health fairs and even at the 1996 Republican Convention. I would be remiss if I did not say that most who encouraged prostate cancer screening were hoping to do good, but some lay and physician advocates encouraged screening and made it into a lucrative business.
By 1996, the diagnosis of prostate cancer grew to epidemic proportions in the United States. Interestingly, PSA screening was never widely adopted in Europe and incidence rates never rose dramatically. Mortality rates are similar to those in the United States.
Faith in screening vs. evidence-based medicine
As early as 1990, I was one of a number of experts expressing concern that screening was unproven. It is fair to say that screening in the United States was based simply on advocates' conviction that early detection and aggressive treatment saved lives. There was little or no scientific evidence that it saved lives. I can say firsthand that some American screening advocates were vicious in their attacks on those who dared question prostate cancer screening. Some lay and physician advocates had a religious-like fervor for screening. They criticized the American screening study as unethical because screening clearly was justified. They even tried to undermine it.
By 1998, all major medical organizations including those who had recommended screening reassessed the scientific data and either:
• Recommended against screening, or
• Said that there was insufficient evidence to recommend for or against it, or
• Recommended that the patient be offered the test within the physician patient relationship, but be informed of the potential risks and benefits and be encouraged to make a choice.
By 1998, all these organizations recommend against mass screening.
Lessons from the two new studies
Like all clinical studies, these have strengths and weaknesses. They are designed to determine whether there is a decrease in death rate because of screening. Improved survival is not evidence of screening benefit -- a decrease in death rate is.
The American study provided annual screening to more than 36,000 men and observed an equal number who were not to be screened. There is a median of 13 years follow-up. Because some men who were not supposed to get screened did, this is really a comparison of the heavily screened group compared to a less-heavily screened group. It found excessive unnecessary diagnosis and treatment with screening with no evidence of a mortality benefit. There are prostate cancers that do not need to be treated.
The European study combines seven studies. The variability in the studies are a weakness. The combined data show a small decrease in mortality associated with screening. Statistical tests show that this finding is just barely significant. Importantly, for every 48 men whose cancer is diagnosed and treated, one life is saved.
These studies are a significant lesson. They are proof that screening has been oversold. They suggest that a man should be informed of the potential risks and potential benefits of screening and he should be encouraged to make a choice. The data suggest that we should be less concerned with the scientific question, "Does screening save lives?" We should be asking the question, "Do the quantified harms of screening justify the benefit?"
In the European study, the average man whose disease is diagnosed through screening is 47 times more likely to have a needless diagnosis and treatment than to have his life saved. Treatment for localized prostate cancer can have significant life-altering side effects.
What is a man to do?
I suggest that men know the facts about screening and talk to a doctor who knows the facts. You will have to know enough to judge whether the physician knows what he or she is talking about. Make your own choice about screening. Do not be overly influenced by what others decide. Avoid mass screening where informed decision-making is not possible.
Health Library
If you already have a diagnosis of localized disease, I suggest you talk to several doctors who treat the disease. Discuss the various kinds of surgery and radiation therapy available. Also discuss observation therapy. Choose the treatment you feel best about. If doctors believe a particular therapy is best for you, let them justify the reason. I am also concerned that all the talk about these new studies will discourage men who should be treated because of extensive disease or very high grade disease to forgo it. Please remember some men should be treated.
I also worry about men with lower urinary tract symptoms. LUTS includes men with difficulty urinating, difficulty emptying their bladder, or men who urinate frequently. Everyone agrees that the proper evaluation of men with LUTS includes a PSA blood test and digital rectal examination as well as other studies. Screening, as discussed above, applies only to men who are asymptomatic.
Medical scientists being unscientific (personal thoughts about the debate)
Over the past 20 years, some men have been told untruths and urged into unnecessary diagnosis, unwanted treatment and medical costs. These men have a right to ask how this happened. The answer is many physicians failed to appreciate the value of being faithful to the science. Many let opinion overwhelm common sense. The lesson is, physicians must tell people what is scientifically known, what is scientifically not known, and what is believed. In order to do this one must not confuse what is believed with what is known. This type of behavior also has implications for spiraling health care costs and health care reform.
E-mail to a friend