By Judy Fortin
CNN Medical Correspondent





ATLANTA, Georgia (CNN) -- Ask third-graders what cholesterol means and they will probably just shrug their shoulders, but not Maddie Zacks.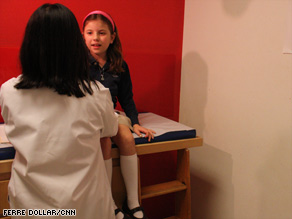 Nine-year-old Maddie Zacks visits her pediatrician to have her blood cholesterol level checked.
"I think it is the fat in your blood," replied the 9-year-old from Atlanta, Georgia.
Not only has she studied heart disease in science class, but she's also already tested positive for high cholesterol.
For years, her mother, Tanya, worried about passing along a family history of high cholesterol. "I think the more information we have, the better we can assess things and figure out what to do from here," she said.
Given the increase in childhood obesity and diabetes in the United States, the American Academy of Pediatrics now recommends routine screening for heart disease in children between the ages of 2 and 10.
"The children who are most concerning are those who are already overweight or obese," said Dr. Jennifer Shu, a spokesperson for the AAP and Maddie's pediatrician. She said other risk factors include diabetes, high blood pressure and a family history of early heart disease. Health Minute: Watch more on kids and cholesterol
Health Minute
Watch for Judy Fortin's Health Minute on Headline News
10 a.m. -6 p.m. ET weekdays

When a young patient fits the risk profile, Shu recommends testing blood cholesterol levels with a simple finger prick. If the results are normal, she suggests a follow-up test in three to five years.
But if the cholesterol reading is high, Shu refers the patient to a cardiologist and strongly suggests some immediate changes at home.
"Lifestyle is always first," Shu said.
When Maddie tested positive for high cholesterol at age 7, Zacks made sure her daughter started a daily exercise regimen. She also took a close look at the family diet.
"We're not perfect," admitted Zacks. "I try to lead by example. I cook with healthier foods."
When diet and exercise don't seem to make much difference, some doctors may turn to cholesterol-lowering drugs called statins. Based on clinical trials, the U.S. Food and Drug Administration approved a handful of statin medications for use in children.
Shu called the drugs a last resort for youngsters and said they should be used only in rare cases. All drugs come with side effects. Shu noted that statins can cause gastrointestinal discomfort and over time may cause varying degrees of liver damage.
"Putting a child or even a teenager on a statin is a major step because that individual may require statin therapy for the rest of their life," said Dr. Timothy Gardner, president of the American Heart Association.
To make sure statins aren't used indiscriminately, the AAP issued guidelines for doctors prescribing the medications for children.
The organization said statin intervention should be considered if a child has an LDL level, or bad cholesterol, over 160 plus two risk factors such as family history, obesity or high blood pressure. Other candidates for the drug are those kids with an LDL over 190 with no risk factors.
Ideally, AAP's target level for LDL cholesterol is 130 or below.
Gardner said doctors worry about elevated cholesterol in children and young adults because they are "very predictive of later cardiovascular events." For that reason, he, too, recommends aggressive exercise programs and dietary modifications.
Shu said children need at least 60 minutes of exercise every day. She said many students can easily achieve that goal through recess activities, gym class and after-school sports.
Shu also detailed how parents can help retool their child's diet. "Add in lean meats and proteins, fruits and vegetables, whole grain breads and low fat dairy," she said. She also urges parents to stop buying sweetened beverages and offer water instead.
At her appointment, Maddie Zacks reassured the doctor that she already eats a salad every day and tries to stay away from sweets.
Shu had recently ordered a retest of the girl's cholesterol levels. The results were just what they were looking for, and Shu shared the numbers with Maddie and her mother.
"Your total cholesterol is awesome," Shu declared, "It is 148."

"Is that average?" asked Maddie.
"It is better than average: You're a superstar," said Shu.
E-mail to a friend

All About Cholesterol • American Heart Association • American Academy of Pediatrics