Editor's note: Campbell Brown anchors CNN's "Campbell Brown: No Bias, No Bull" at 8 p.m. ET Mondays through Fridays. She delivered this commentary during the "Cutting through the Bull" segment of Thursday night's broadcast.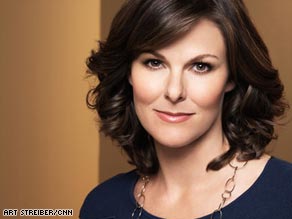 CNN's Campbell Brown urges parents to get their children vaccinated against the measles.
What I am about to say, I know, is controversial. And I know that a lot of people are going to disagree with me. But as a mother, with a second child on the way, I believe this is vital to the safety of our children and must be said.
The verdict is in. There is no connection between vaccines and autism. And it is time that all of us get our children vaccinated.
In 2008, the United States had the highest measles rate in 10 years. An increasing number of parents have been refusing to vaccinate their children against measles because of this fear of a connection.
It is not grounded in science. There is no evidence to support it.
Major medical groups and government research are unanimous: the measles vaccine is safe, and you must get your children vaccinated; because if you don't, you are endangering my children. You are endangering your neighbor's children. You are endangering all of our children.

Watch Campbell Brown's plea to parents »
A baby needs to be 12 months to get the measles vaccine. That means that infants are protected from the measles only because everyone they come in contact with, we hope, has already been vaccinated. Infants hide in the herd of other vaccinated people.
'No Bias. No Bull'
Tonight Campbell Brown and CNN senior medical correspondent Elizabeth Cohen read your emails and separate fact from fiction in the ongoing autism and vaccine debate.
Friday, 8 p.m. ET

As adults increasingly refuse to vaccinate their children, we will continue to see a rise in measles outbreaks. This is serious stuff. Measles can be deadly.
I do feel for the parents of autistic children. I can only imagine the pain and frustration they must feel -- the desperation to find a cause for your child's illness. But parents, please don't endanger all of our children based on a myth.
Medical science has proved there is no link.
Let's all move on together and focus on finding the real cause of autism and at the same time protect all of our children from deadly diseases like measles that we know how to prevent.

I'm sure many of you are passionate about this, so please e-mail me. Send us your iReports. And let's continue the conversation.
The opinions expressed in this commentary are solely those of Campbell Brown.
E-mail to a friend