(CNN) -- Kroger -- a grocery chain with stores in 31 states -- has issued a recall for foods made with peanut products, widening recalls related to the Peanut Corporation of America.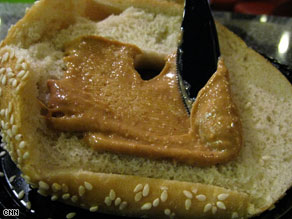 According to the FDA, jar peanut butter, including Kroger's brand, is not involved in the investigation.
The Food and Drug Administration has accused PCA of knowingly selling peanut butter and peanut paste contaminated with salmonella. The peanut butter and peanut paste have been used to make food products nationwide.
The Virginia-based company's plant in Blakely, Georgia, is being investigated in connection with a salmonella outbreak that sickened 550 people and has been linked to eight deaths.
Kroger, one of the biggest supermarket chains in the United States, is recalling products in the 31 states where it operates stores under various names. The stores involved are Kroger, Ralphs, Fred Meyer, Food 4 Less, Fry's, King Soopers, Smith's, Dillons, QFC, City Market, Foods Co., Jay C, Scott's, Owen's, Baker's, Gerbes, Hilander and Pay Less.
Kroger said it was recalling peanut butter store-baked and store-packaged cookies and select cakes sold in its family of stores because the products could be contaminated with salmonella. No illnesses have been reported in connection with the cookies and cakes, the company said in a statement on its Web site.

Learn more about food poisoning »
According to the FDA, peanut butter sold in jars -- including Kroger-brand peanut butter -- is not involved in the salmonella investigation.
Kroger said it is recalling all packages of the following Kroger, store-brand and Private Selection store-baked and store-packaged cookies:
• Peanut Butter Cookies -- Regular, Jumbo, Decorated, Iced, Gourmet, Mini and Sandwich cookies
• Assorted and Variety Bakery Cookies -- Regular and Jumbo
• Private Selection Peanut Chocolate Chunk Cookies
• Private Selection Gourmet Variety Cookie Trays
Kroger is recalling all sizes of the following Private Selection Cakes, including whole, half and packaged slices:
• Private Selection Chocolate Trio
• Single-Layer and Double-Layer Iced Cakes
Customers are asked to return these products for a refund or replacement.
Customers with questions are asked to call Kroger at (800) 632-6900 or to visit www.kroger.com/recalls.
Separately, the Kellogg Company announced Monday it is recalling more products potentially linked to salmonella-tainted peanut products made by PCA.
The voluntary national recall includes 2.5-ounce packages of raisin cookies with a "best if used before" date before June 30, 2009, with UPC codes 3010032708 and 3010037899, the company said in a written statement posted on its Web site.
Also affected are Special K Protein Meal Bars, honey almond variety only, in packages of six and eight with a "best if used before" date before February 1, 2010, with UPC codes 3800039778, 3800039935, and 3800039931.
Health Library
Across the country, hundreds of products using PCA's peanut paste and peanut butter have been recalled, and the FDA has urged consumers to check the agency's Web site frequently for updates.
Recalled peanut products can be viewed on the FDA's Web site.

Federal health officials recommend consumers throw away any recalled products and not consume any products whose safety cannot be verified.
The American Peanut Council has compiled a list of companies not affected by the recall here.
E-mail to a friend

All About Peanut Corporation of America • Food and Drug Administration