By Madison Park
CNN





(CNN) -- It's not just slathered on crackers and bagels.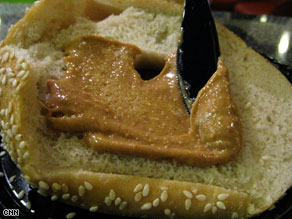 The average American consumes more than six pounds of peanuts and peanut butter products each year.
Peanut butter is everywhere.
Products including Trader Joe's celery with peanut butter packs and nutrition bars from Clif Bar, NutriSystem and Luna are among the 125-plus products recalled in a salmonella outbreak.
Cookie dough, candy and even dog treats have been affected as authorities attempt to track down what products contain the contaminated peanut butter and peanut paste.
Peanuts' heavy presence in snacks is creating a complicated federal investigation after an outbreak of salmonella typhimurium in 43 states. The bacteria have sickened at least 486 people, killing six, and have been linked to products manufactured by the Peanut Corporation of America in its Blakely, Georgia, plant.

Learn more about salmonella »
Federal authorities expect more products to be recalled, although they could not estimate how many on Wednesday.
Consumers have been urged to throw out peanut butter products if they can't determine whether the food came from PCA. The Food and Drug Administration is maintaining an updated list of recalled products.
PCA doesn't directly supply to supermarkets, so peanut butter sold in jars is not expected to be affected. The American Peanut Council has a list of peanut products that are not affected by the recall.
The average American consumes more than six pounds of peanuts and peanut butter products each year, according to the National Peanut Board. Peanuts are a rich source of protein and are naturally cholesterol-free.
"Peanuts are an all-American food, specifically peanut butter," said Tara Gidus, a registered dietician and spokeswoman for the American Dietetic Association. "It is very widespread. You see it from ice creams to bars to all kinds of different cookies."
Products such as Famous Amos' peanut butter cookies, Wal-Mart's peanut butter fudge, Little Debbie sandwich crackers, Blanton's Peanut Butter Sticks, Meijer's peanut butter cup ice cream and Austin's cheese and peanut butter sandwich crackers have been recalled.
Anne Muñoz-Furlong, founder of Food Allergy and Anaphylaxis Network, said people might "walk away with a feeling of knowing what it's like to have a food allergy" because of the salmonella outbreak.
Because of the pervasiveness of peanuts in the food supply, people with peanut allergies read labels "very carefully, so there's not even traces of peanuts in certain foods," Gidus said. They have to inquire about sauce in restaurant dishes and read ingredients for every snack.
"This shows that it sounds very easy to avoid peanuts, but it's not so easy," Muñoz-Furlong said. "It's in so many different places you wouldn't expect it. That's what makes it so challenging."
Peanut butter lover Adam Leidhecker checked online to make sure his food is safe. He combed through his cupboard and found a few peanut butter cookies and crackers and threw them away if those companies hadn't released a statement stating their products were safe.
"The companies not affected need to take an extra step to say that they're on top of it," said Leidhecker, a Williamsport, Pennsylvania, resident.
He said he'll continue to eat his daily creamy peanut butter sandwich and slather peanut butter on a treat for his 2-year-old dog, Lola, after checking the products online.
"I'm not going to go without peanut butter," he said.
Ongoing investigation
PCA distributed the peanut butter and paste in bulk to be used by various manufacturers to create cakes, candies, crackers, cookies and ice cream.
Health Library
"The FDA is following [the] product as it left the Blakely, Georgia, plant," said Dr. Stephen Sundlof, the director of the agency's Center for Food Safety and Applied Nutrition. "And we're following it down to the end, so that if it goes to a primary source and then gets redistributed to some secondary or even tertiary manufacturers, we're following that all the way down."
The first illnesses were reported September 8.
The investigation is complex because the contaminated ingredient spread to a variety of products, said Dr. Robert Tauxe, deputy director of the Centers for Disease Control and Prevention's Division of Foodborne, Bacterial and Mycotic Diseases.
"Tracking them down by reviewing the sales and invoices as FDA is doing, and finding samples that can be cultured is a very large and ongoing undertaking involving many people," he said.
The outbreak highlights how food production has become more centralized, said Jaydee Hanson, a policy analyst for the Center for Food Safety. The peanuts come from a variety of farms, then are processed at a central location into ingredients disbursed for use in many products, he said.
"We should not have in the food system this level of contamination," Hanson said. "That's a failure of regulation."
The last inspection of the company was conducted by the state of Georgia in June, according to the FDA. Officials said some violations were found that were corrected by the company. No further information was provided.

"The food industry is really the responsible party for ensuring that the products that they produce are safe," Sundlof said.
"But it is not the responsibility of the consumer to make sure that the product that they receive is a safe product. That is the responsibility of the food industry and with the oversight of the Food and Drug Administration."
E-mail to a friend

CNN's Miriam Falco contributed to this report.
All About Peanut Corporation • Food Safety