Sources: Terror suspect is son of bank executive, attended college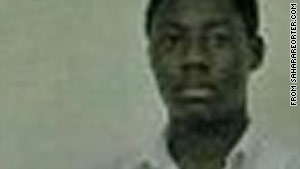 This photo of Umar Farouk Abdulmutallab appeared on the Web site saharareporter.com.
STORY HIGHLIGHTS
Umar Farouk Abdulmutallab, 23, got a college degree in London, a family source says
University official says a person by a similar name attended from 2005 to 2008
His father is a prominent banker in Nigeria, a family source told CNN
He told family recently he was going to Yemen for "course of Islam," source said
(CNN) -- The man charged with attempting to destroy a U.S. airliner on Friday is the son of prominent Nigerian banker and had been a college student in Britain before moving to Dubai, according to family and official sources.
Umar Farouk Abdulmutallab, 23, received a college degree at the University College of London, according to a source who lives at the family home in Kaduna, Nigeria.
Dave Weston, a spokesman for the university, said a man named Umar Farouk Abdul Mutallab was enrolled in the mechanical engineering department between September 2005 and June 2008.
His father, Alhaji Umar Mutallab, recently retired as chairman of First Bank PLC, one of the Nigeria's premier banks, said the source, who lives at the family home in Kaduna, Nigeria.
Abdulmutallab went to Dubai to study for a second degree, the family source told CNN, but contacted his family to so say he was moving to Yemen, implying that he was leaving "for the course of Islam."
It was after this communication that his father contacted security services and the U.S. Embassy in Abuja, Nigeria's capital, to warn that he feared his son might intend to participate in "some kind of jihad," the family source said.
The family member said Abdulmutallab "had no family consent or support" and that he "absconded to Yemen."
Abdulmutallab's last known London address was a basement apartment in a wealthy neighborhood. On Saturday, counterterrorism police officers police went in and out of an ornate building on Mansfield Street where Abdulmutallab apparently lived.
Abdulmutallab was granted a multiple-year, multiple-entry tourist visa at the U.S. Embassy in London in June 2008, a senior U.S. administration official familiar with the case told CNN on Saturday.
At the time, there was "no derogatory information that would have prevented him from getting a visa," said the official.
When Abdulmuttalab returned to Nigeria from London, he told his family he wanted to get a second college degree in Cairo or Saudi Arabia, the family source said. The family refused, because they were worried that he may have developed ties to some dubious people. He went to Dubai instead, the source said.