Fort Hood shooting suspect out of intensive care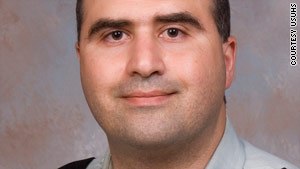 Suspect Maj. Nidal Malik Hasan, an Army psychiatrist, faces 13 counts of premeditated murder.
STORY HIGHLIGHTS
Nidal Hasan moved to different ward at Brooke Army Medical Center
He was paralyzed from waist down after shootings at Fort Hood processing center
Lawyer wants him moved from San Antonio to facility closer to Fort Hood
(CNN) -- The man accused of killing 13 people and wounding dozens more in a shooting at Fort Hood Army Post last month has been released from intensive care, his lawyer said Wednesday.
Maj. Nidal Malik Hasan has been moved to a different ward in Brooke Army Medical Center in San Antonio, Texas, according to his attorney, John Galligan.
Galligan said the move happened late Tuesday night.
Hasan faces 13 counts of premeditated murder and 32 counts of attempted premeditated murder stemming from the November 5 shooting.
Authorities say Hasan, a 39-year-old Army psychiatrist, began shooting at a processing center at the Army post. Civilian police officers rushed to the scene, and Hasan was shot and paralyzed from the waist down.
Galligan said he has been able to speak with his client briefly, and he wanted him moved to a different facility.
"I've filed a motion for Mr. Hasan be moved to a facility that's closer to Fort Hood and for him to receive rehabilitation there, but I'm yet to hear back about my request," he said.
San Antonio is about 125 miles from Fort Hood, and Galligan said the distance makes it difficult to work on the case.
"I just want closer access," he said. He said he expected Hasan to remain in the hospital for another three months and then undergo physical therapy.
Galligan also said he has requested additional defense attorneys under the uniform code of military council but said he also is waiting for a reply on that issue.
The shooting prompted military brass at Fort Hood to tighten security procedures and expand mental health services.
The FBI has conducted a preliminary review of the shooting, and the Pentagon is conducting its own investigation into whether any signs that could have warned of the rampage were missed.
Last week, the FBI announced that former FBI and CIA Director William Webster will lead an outside investigation of the bureau's "policies, practices and actions" before the shooting.
CNN Radio's Ninette Sosa and Martha Dalton contributed to this report.