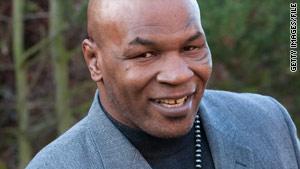 An incident at a Los Angeles International Airport ticket counter led to Mike Tyson's arrest, police say.
STORY HIGHLIGHTS
Mike Tyson arrested on battery charge after hitting photographer, police say
Police: Incident happened at ticket counter at Los Angeles International Airport
Photographer Tony Echevarria also arrested; both men free on bond
Los Angeles, California (CNN) -- The celebrity photographer who had a scuffle with Mike Tyson at a Los Angeles airport terminal said he kept a "respectful" distance as he followed the former boxing champ and his family.
"If you see the tape, it says it all," Tony Echevarria said Thursday.
Both Tyson, 43, and the 50-year-old freelance member of the paparazzi were booked on misdemeanor battery charges based on complaints each filed against the other, according to airport police Sgt. Jim Holcomb.
Tyson and Echevarria were both released on signature bonds Wednesday night, Holcomb said.
It was not immediately clear if the arrest would affect Tyson's probation on cocaine and drunken driving convictions in Arizona two years ago.
Echevarria, who suffered cuts and bruises on his head that sent him to a hospital, told celebrity gossip Web site TMZ that his video camera was destroyed when Tyson smashed it to the ground.
Los Angeles police seized the video and camera as evidence, Holcomb said.
Echevarria said he followed Tyson's entourage, which included his wife and 10-month-old daughter, as they took a long walk through Los Angeles International Airport after arriving on a flight from London, England.
Tyson didn't appear bothered at first, the photographer told TMZ. The trouble started when they arrived at the United Airlines ticket counter and Tyson had trouble finding a toilet, he said.
"I wasn't aggressive," Echevarria said. "I was shooting at a distance and it was respectful."
Tyson grabbed him and threw at least four punches "that I know of," he said. "When blood is gushing, you lose count."
Echevarria was booked on a battery charge, after he was released from a hospital emergency room, because Tyson accused the photographer of battery, Holcomb said.
Phone calls and an e-mail to Tyson's publicist requesting a response have not been returned.
Tyson was calm and cooperative when he was detained by airport police, Holcomb said.
A crowd of photographers lined the airport police station driveway as a patrol car, with Tyson sitting handcuffed in the back, left for a south Los Angeles police station for booking Wednesday night.
Tyson's 4-year-old daughter died in May after she was accidentally strangled by a cord connected to a treadmill at Tyson's Phoenix, Arizona, home.
The 43-year-old Brooklyn-born Tyson became the youngest world heavyweight champion in history when he won the World Boxing Council title at age 20.
Tyson also won the WBA and IBF versions of the crown during a career that was littered with controversy, including a 1992 rape conviction for which he served three years in prison and a disqualification for biting Evander Holyfield's ear during a 1997 title rematch.
He retired from competitive professional boxing in 2005.