Suspect in custody in school hostage standoff, police say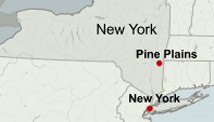 STORY HIGHLIGHTS
NEW: Suspect's son had been suspended from the school, police say
NEW: Police not immediately disclosing suspect's identity or motive
No one injured, suspect in custody, police say
(CNN) -- A suspect was in custody and no one was hurt after a gunman held a principal hostage Tuesday at a school in Pine Plains, New York, a spokeswoman for the Dutchess County sheriff's office said.
Earlier, police had contained the gunman and his hostage to a room at Stissing Mountain High School for negotiations, Pine Plains Town Supervisor Gregg Pulver told CNN.
State Police Sergeant Matthew Schlottmann said the gunman was a Pine Plains resident with a local police record.
According to Schlottmann, the gunman's son was a student who had recently been suspended for unknown reasons.

Video: Hostage held at high school
Pulver arrived at the scene shortly after 8 a.m. after learning of the hostage situation.
He estimated that around 600 people -- 500 students and 100 staff members -- were at the school.
In all, Pulver said, about 100 police officers -- including the New York State Police's Mobile Response Team, the Dutchess County Sheriff's Department SWAT team, and the Pine Plains Police Department -- were at the scene.
The identity of the suspect was not immediately disclosed, nor were his demands.
Pine Plains is about two hours north of New York City.
CNN's Dana Garrett contributed to this report.