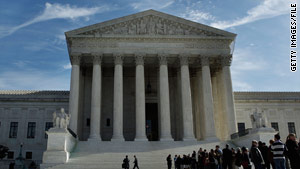 The justices appeared divided over the appeals of two juvenile offenders serving life sentences.
STORY HIGHLIGHTS
Court was asked whether some sentences for juveniles are "cruel and unusual"

One appeal is from man who was convicted of raping woman when he was 13

Only a few states prohibit sentencing minors to life without a chance for parole

Washington (CNN) -- The Supreme Court wrestled in often emotional terms Monday over whether sentencing juvenile criminals to life in prison without parole is "cruel and unusual" punishment, especially when their crime is not murder.
The justices appeared divided over how to treat two separate appeals, one involving a 13-year-old rapist and the other a 17-year-old violent home-invasion robber.
"You can imagine someone who is a month short of his 18th birthday, and you are saying that, no matter what this person does -- commits the most horrible series of non-homicide offenses that you can imagine, a whole series of brutal rapes, assaults -- that person must at some point be made eligible for parole. That's your argument?" a skeptical Justice Samuel Alito asked a lawyer for one of the prisoners.
Justice Stephen Breyer offered a different example.
"The confusion and uncertainty about the moral responsibility of a 13-year-old is such that it is a cruel thing to do, to remove from that individual his entire life" with such a sentence, he said. "You see, we are at the extreme" in that example.
The Supreme Court's rulings are expected by late spring.
One of the appeals is from Joe Sullivan, now 33, serving a life term without the possibility of parole in a Florida prison while confined to a wheelchair. He was sentenced for the rape of an elderly woman, committed when he was 13.
Sullivan's lawyers say he is one of only two people in the world who was tried as an adult at such a young age and sentenced to "die in prison" for a non-homicide.
The other appeal came from Terrance Graham, who was 17 when he took part in a violent home-invasion robbery while on parole for another felony.
In 2005, the high court outlawed the death penalty for juvenile murderers.
Child legal advocates say many states lack adequate resources to handle young inmates given long sentences, including a lack of proper jailhouse counseling. Few studies have been conducted on the psychological and penological effects of young defendants facing life in prison, said the Equal Justice Institute, which is representing Sullivan.
The justices' comments during the two-hour session fell along predictable conservative/liberal lines.
"To say to any child of 13 that you are only fit to die in prison is cruel," said Sullivan's lawyer, Bryan Stevenson. "It can't be reconciled with what we know about the nature of children, about the character of children. It cannot be reconciled with our standards of decency."
"It doesn't make it any crueler to him," Justice Antonin Scalia said. "I don't see why it's any crueler to an adolescent than it is to -- what -- where do you want to draw the line? At 21?"
Stevenson also argued that there is a racial component, claiming that the majority of "juvenile lifers" are minorities. Sullivan and Graham are black.
Justice Sonia Sotomayor pointed out that in the case of Graham, the 17-year-old defendant, even the prosecutor did not recommend life without parole. And the justice said Graham had pursued his education and was compliant with some conditions of his parole before committing his second felony.
"It does suggest some hope for him," Sotomayor said.
"Why does a juvenile have a constitutional right to hope but an adult does not?" Justice Anthony Kennedy asked. His vote could be crucial in these cases, but he expressed concerns about the views presented by both sides.
Justice Ruth Bader Ginsburg echoed the concerns of many juvenile justice advocates.
"Unlike an adult, because of the immaturity, you can't really judge a teenager at the point of sentencing," she said. "It's only after a period of time has gone by, and you see: Has this person overcome those youthful disabilities?"
A lawyer for Florida argued that states should have the discretion they have long been given to decide how harshly young criminals should be prosecuted. Sexual battery remains a crime punishable by life imprisonment in Florida.
Alito continued to focus on the crimes committed and less on the age of the defendant.
"Some of the actual cases in which this sentence has been imposed in Florida involve factual situations that are so horrible that I couldn't have imagined them if I hadn't actually seen them," he said of some juvenile offenders. "Raping an 8-year-old girl and burying her alive; are you familiar with that case? Raping a woman in front of her 12-year-old son."
Alito is a former U.S. attorney in New Jersey who prosecuted federal crimes in his home state in the late 1980s.
Escambia County Circuit Judge Nicholas Geeker, who sentenced Sullivan, said at the time, "I am going to try to send him away for as long as I can. He is beyond help. The juvenile system has been utterly incapable of doing anything with Mr. Sullivan."
Sullivan, who had a lengthy juvenile record, denies that he committed the attack.
A study by the nonprofit Equal Justice Initiative found that eight prisoners are currently serving life terms for crimes committed at age 13, all in the United States.
The Justice Department reports that no 13-year-old has been given life without parole for non-homicides in a decade. Although about 1,000 people younger than 15 are arrested on suspicion of rape every year, none has been given life without parole since Sullivan.
Only a few states -- including Alaska, Colorado, Kansas, New Mexico and Oregon -- prohibit sentencing minors to life without a chance for parole, according to the National Conference of State Legislatures.
There was a dispute in court Monday over how many juvenile offenders are serving life without parole. Some estimates run at more than 2,500, mostly for murder. Sullivan's lawyer said 111 committed non-homicides, 77 in Florida alone. Pennsylvania has the highest total number of juvenile lifers.
Alito pointed out that those studies were not peer-reviewed and are disputed by many states, as well as victims' rights groups, as too high.
Chief Justice John Roberts may have anticipated a divided court on these cases. He repeatedly sought a compromise of sorts to resolve the dispute, using a form of judicial discretion known as "proportional review."
"Wouldn't it make sense to incorporate the consideration of the juvenile status into the proportionality review? So that if you do have a case where it's the 17-year-old who is one week shy of his 18th birthday, and it is the most grievous crime spree you can imagine, you can determine that in that case life without parole may not be disproportionate," Roberts said. "But you would argue that these are the facts here -- if it's a less grievous crime and there is, for example, a younger defendant involved, then in that case maybe it is disproportionate. Why -- why doesn't that seem more sensitive? It avoids all of the line-drawing problems we have been discussing."
The thrust of Sullivan and Graham's argument before the high court is not that they are innocent or that they seek freedom now but that they deserve to someday make a case before the state parole board.
The cases are Sullivan v. Florida (08-7621) and Graham v. Florida (08-7412).