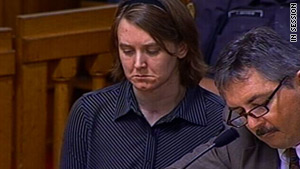 Michelle Kehoe was convicted Thursday of first-degree murder and attempted murder.
STORY HIGHLIGHTS
Jury of eight women, four men deliberated for less than two hours
Michelle Kehoe slashed sons' throats, left them for dead, tried to kill herself
Iowa jury heard tape of surviving boy telling police his mother cut him, hurt brother
Kehoe's lawyers argued that she was mentally ill, didn't know right from wrong
Grundy Center, Iowa (CNN) -- An Iowa jury found Thursday that a mother with a history of depression knew right from wrong when she slashed her sons' throats, killing one and leaving the other permanently scarred.
Michelle Kehoe of Coralville, Iowa, broke into tears as the jury of eight women and four men found her guilty of first-degree murder, attempted murder and child endangerment causing serious injury. The jury deliberated for just an hour and 40 minutes.
Kehoe faces a sentence of life in prison without parole.
Kehoe's attorneys presented an insanity defense, arguing that she believed she was trying to save her sons from a life of suffering when she cut their throats and her own. Her first suicide attempt occurred in 1996, according to testimony.
Prosecutors countered that Kehoe methodically planned to kill her sons and herself, but botched it. The detailed planning showed she was not legally insane, Iowa Attorney General Andrew Prosser said.
The trial's dramatic highlight came as prosecutors played an audiotape of the surviving son's police statement. The boy, now 8, described how his mother slashed his throat, then moved on to his younger brother.
"She cut me," the boy said in a high-pitched voice.
Police found him covered in dried blood in the family van the morning of October 27, 2008, near a pond east of Littleton, Iowa. Beside the van, the boy's 2-year-old brother lay dead, his throat also slashed.

Video: Experts testify

Video: Doomed boy seen on camera

Video: A secluded spot to kill

Video: Boy describes attack by mother
The boy had locked himself in the van overnight after his mother slashed him and his younger brother the previous day and left them for dead, Prosser said.
Kehoe then walked to a nearby pond and attempted to kill herself by slashing her throat with the same weapon, a Winchester hunting knife she bought the month before, Prosser said.
She later told a defense mental health expert, Marilyn Hutchinson, that she had tried to pull out her windpipe, according to testimony.
When it became apparent she was not going to die, the prosecutor said, Kehoe staggered half a mile down the road to the nearest home and told a story she'd concocted weeks before of how a stranger abducted the family, killed her sons and tried to kill her.
But when authorities went searching for the stranger, they instead found her 7-year-old son in the car and his younger brother dead outside the driver's side.
"Do you know where you're injured at," Deputy Stephen Peterson asked the boy in the recording.
"Just my throat," the boy said.
"Who did that to you?"
"My mom."
The boy said his mother also put duct tape over his eyes, nose and mouth, but that he pulled them off after his mother left.
"She was hurting my baby brother," he said.
According to testimony Kehoe began planning the attack the previous month, buying the knife and the duct tape. She told her husband she was taking the boys to visit her mother at a nursing home.
Police found a handwritten note laying out details of the the attack. It said a man broke into the car when the family stopped at a gas station and forced them to the area where the van was found. Kehoe tried to fight him off with pepper spray, but he knocked her unconscious, the note said.
Police said Kehoe later told them she had written the note during the attack to explain what had happened to those who would find the scene.
According to testimony, Kehoe also told Hutchinson, the defense expert, that an incident a year earlier in which her car plunged into the Iowa River with the boys inside was actually a suicide attempt.
She and her sons were rescued by passers-by, who were hailed as heroes.
CNN's Ann O'Neill and Emanuella Grinberg contributed to this story.