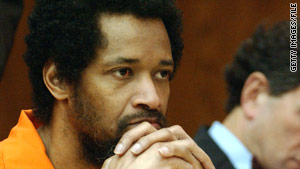 John Allen Muhammad was convicted in an October 2002 sniper-style shooting.
STORY HIGHLIGHTS
Attorneys for John Allen Muhammad filed appeal
Appeal filed Tuesday, but no indication when the court would rule
A clemency request has already been filed with Virginia Gov. Timothy Kaine's office
Washington (CNN) -- Lawyers for convicted Beltway sniper John Allen Muhammad have asked the Supreme Court to block next week's scheduled execution.
An appeal was filed Tuesday evening with the justices, but there was no indication when the court would rule. A clemency request has already been filed with Virginia Gov. Timothy Kaine's office.
Muhammad, 48, is scheduled to be executed November 10 for the murder of Dean Harold Meyers at a gas station in Manassas, Virginia. Muhammad recently transferred to death row at Greensville Correctional Center in rural southern Virginia.
Muhammad and teenage accomplice Lee Boyd Malvo terrorized the nation's capital for three weeks in October 2002, responsible for the sniper-style killings of 10 people in Maryland, Virginia, and the District of Columbia, police believe. Three others were wounded by high-powered gunfire, said police.
The pair was also suspected in earlier, similar shootings in Washington state, Louisiana, Alabama, and the Washington, D.C. area.
In their appeal, his attorneys say Muhammad was not given sufficient time to file his appeal. But the bulk of the brief dealt with claims the defendant was mentally unstable and that he received ineffective counsel at trial.
"There is overwhelming objective evidence that would have likely led to a finding that Muhammad was incompetent to stand trial," said the brief filed Tuesday.
"Trial counsel also had first-hand confirmation of the impact of these [mental illness] factors in their own experience of Muhammad's bizarre behavior and delusional beliefs, as well as witnesses they interviewed pre-trial who described Muhammad in terms that indicated severe mental illness."
In a statement last month attorney Jon Sheldon said the alleged brain damage was caused by childhood beatings and "certainly exacerbated by the Gulf War Syndrome he suffered before and after serving as a sergeant in the first Iraq war." The Supreme Court outlawed execution of the mentally retarded in 2002, four months before the sniper assaults.
Muhammad should serve life without parole, Sheldon said. Such a sentence would "keep the people of Virginia safe."
The clemency request was unusual in that it was presented entirely with audio interviews with attorneys, mental health experts and witnesses, rather than a standard written document. Both Sheldon and Kaine's office have refused to release the audio statements to CNN and other media.
There was no word when Kaine would rule on the request. He told a Washington area radio station in late September he was inclined to deny clemency.
"I know of nothing in this case that would suggest that there is any credible claim of innocence or that there was anything procedurally wrong with the prosecution," the governor told Washington radio station WTOP.
Lower federal courts have previously turned down Muhammad's claims that he should not have been allowed to serve as his own attorney for a part of his criminal trial because of his mental illness. He also claimed prosecutors withheld critical evidence. The Supreme Court last year denied Muhammad's first round of appeals.
Muhammad and Malvo were charged with hiding from cover and firing their rifle at random individuals. Victims were shot at various locales -- outside gas stations, a restaurant, a hardware store and the victims' homes.
Police found a laptop on the pair when they were arrested that showed a "blueprint" for the shootings, placing them at locales where the crimes took place. Tarot cards were also left at some scenes, showing the figure of "Death," with one including a handwritten message "Dear Policeman, I am God."
The pair was arrested October 24, 2002, sleeping in their car at a Maryland rest stop.
Malvo eventually testified against his mentor and is serving life in prison.
The case is Muhammad v. Kelly (0907328).