Garridos in court for hearing as 1976 rape victim watches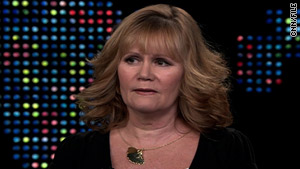 Katherine Callaway Hall says she felt unexpectedly emotional in court Thursday.
STORY HIGHLIGHTS
Couple accused of kidnapping, raping, holding Jaycee Dugard hostage
Suspect's 1976 rape victim says she is determined to be in courtroom
Phillip and Nancy Garrido's next hearing set for December 11
(CNN) -- The California couple accused of kidnapping and raping an 11-year-old girl and then holding her captive for 18 years made a brief appearance in court Thursday.
Among the observers in the courtroom was Katherine Callaway Hall, whom Phillip Garrido was convicted of abducting and repeatedly raping in 1976. She has said she was locked in a storage facility for hours after Garrido drove her from Lake Tahoe, California, to Reno, Nevada.
In the courtroom Thursday, she said, "he looked right at me, and I just glared right back."
An El Dorado County Superior Court judge set a December 11 date for the next hearing for Garrido and his wife, Nancy. At that time, issues such as discovery will be considered, the judge said. No trial date has been set.
The Garridos have pleaded not guilty to charges involving Jaycee Dugard, who police say was abducted in 1991 and hidden in a maze of tents and sheds in the couple's backyard in Antioch, California, until she was discovered in late August. Garrido fathered two children with the girl, police say.
Garrido also is a suspect in the unsolved kidnappings of two girls, ages 9 and 13, including one who resembles Dugard.

Video: Rape victim faces attacker

Video: Garrido hearing postponed
"I did not expect to feel so emotional," Hall said after the hearing. Asked how she felt when Garrido walked into the courtroom, she replied, "I almost broke down. The same old fears came back that I felt 33 years ago when he had me."
Hall said she dreaded being in court but is determined to be there for Dugard. She doesn't expect to be called to testify.
"I just feel so intensely passionate about this. I'm going to make sure that this man goes away forever this time," she said.
Garrido was sentenced to 50 years in federal prison for the attack on Hall but was released on parole after 11.
Hall said she would like to meet Dugard.
"I would like to meet her someday when she has time, if she wants to see me," she said. "I don't know what I'd say to her. I just want to give her a hug."