(CNN) -- A Massachusetts man charged Wednesday with conspiring to provide material support to terrorists abroad distributed a video that he said showed the "mutilation and abuse" of the bodies of U.S. personnel in Iraq, an FBI agent says.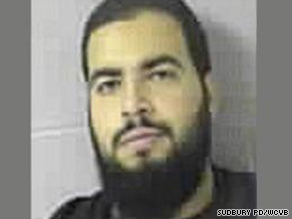 Tarek Mehanna, 27, of Sudbury, Massachusetts, could face 15 years in prison and a $250,000 fine.
The video file was stored on a computer authorities took from the bedroom of Tarek Mehanna, 27, of Sudbury, Massachusetts, said Heidi Williams, an FBI special agent in Boston.
Mehanna sent the video to associates, explaining that it showed the aftermath of retaliation against U.S. personnel after a report of a rape committed by a serviceman, Williams said in an affidavit supporting three search warrants.
"The computer revealed that Mehanna and others reveled in the death of United States servicemen overseas," she said.
Mehanna faces one count of conspiracy, the acting U.S. attorney for Massachusetts said Wednesday at a news conference.

Watch a CNN report about Mehanna »
Michael K. Loucks said Mehanna, of Sudbury, Massachusetts, traveled overseas, sought training from the Taliban, wanted to kill U.S. soldiers in Iraq and hoped to kill one or two members of the executive branch of the U.S. government.
He did not name those potentially threatened, but said they never were in danger.
Mehanna appeared in court Wednesday to hear the charge against him. CNN was unable to reach his attorney, J.W. Carney Jr.
The suspect and his alleged co-conspirators had discussed an attack on at least one U.S. mall, Loucks said. However, that assault never occurred and is not included in the conspiracy charge, said Christina DiIorio-Sterling, a U.S. attorney's office spokeswoman.
The idea stalled, Loucks said, after Mehanna and the others were unable to get automatic weapons.
The complaint affidavit alleges that Mehanna and co-conspirators sought to participate in "violent jihad against American interests and ... would talk about fighting jihad and their desire to die on the battlefield." It adds that "the co-conspirators attempted to radicalize others and inspire each other by, among other things, watching and distributing jihadi videos."
Included in the videos Mehanna obtained and watched were shots of U.S. soldiers killed by a roadside bomb in Iraq, in addition to the mutilation scenes, Loucks said.
Mehanna was arrested a year ago after being accused of lying to FBI agents in a terror investigation, but the latest charges are more serious, Loucks said.
Williams' affidavit said Mehanna had two co-conspirators, including Ahmad Abousamra. The identity of the third man wasn't provided.
The three planned trips overseas in an effort to join training camps and kill American soldiers, Loucks said. Mehanna and others traveled to Pakistan, Iraq, Syria and Yemen and sought training from groups including the Taliban, he said.
A federal complaint alleges that the conspiracy began in or about 2001 and lasted until about May 2008.
During that time, according to a statement from the U.S. Department of Justice, Mehanna and the others allegedly conspired to provide material support and resources to carry out "a conspiracy to kill, kidnap, maim, or injure persons or damage property in a foreign country, and extraterritorial homicide of a U.S. national."
One of their plans was to attack at least one U.S. shopping mall in a random shooting spree, but that did not happen because they couldn't obtain the assault weapons they wanted, Loucks said. He didn't name the mall.
Loucks said the logistics involved assaulting multiple entrances of the mall. They also had determined the steps they would take when first responders arrived, he said.
In an effort to get automatic weapons, one of Mehanna's co-conspirators approached Daniel Maldonado, a convert to Islam who was said to have contacts with gang members, according to the criminal complaint.
The co-conspirator traveled to New Hampshire to meet with Maldonado, who said he had access only to handguns. The alleged mall plan was subsequently abandoned, Loucks said.
Mehanna was indicted in January, charged with making false statements to a joint terrorism task force regarding Maldonado, who was captured by Kenyan troops while fighting with al Qaeda in Somalia.
Maldonado is serving a 10-year sentence after his guilty plea to a charge of receiving military-type training from a foreign terrorist organization, al Qaeda.
The men used code names to describe their activities, Williams said. In late 2006, Maldonado called Mehanna from Somalia and said he was participating in a "culinary school" and making "peanut butter and jelly."
"Culinary school" meant Maldonado was receiving jihad training, and "peanut butter and jelly" referred to jihad, Williams said.
If convicted of the material support charge, Mehanna would face up to 15 years in prison, to be followed by three years of supervised release, and a $250,000 fine.

"I think we're satisfied that we know every member of this group," Loucks said. "We do not believe that there are any terrorist cells in this area."
Mehanna was arrested in November 2008 as he was about to board a flight at Logan International Airport in Boston, Loucks said.
E-mail to a friend

All About Terrorism • The Taliban • Al Qaeda