By Ashley Hayes
CNN





(CNN) -- Jury selection is under way in the trial of a former Alabama judge accused of checking male inmates out of jail and forcing them to engage in sexual activity including paddling, officials said.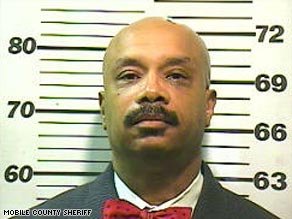 Former Mobile County Circuit Judge Herman Thomas denies all the charges, his attorney says.
Former Mobile County Circuit Judge Herman Thomas faces about 80 criminal counts, including kidnapping, sexual abuse, extortion and sodomy.
A jury could be seated as soon as Thursday afternoon, or the process could stretch through the end of the week, Mobile County District Attorney John Tyson Jr. told CNN on Wednesday.
An indictment returned in March charged Thomas with 57 counts, and a second indictment in August added more. At one point, Thomas faced 105 counts, Tyson said. A judge threw out some of them, as the statute of limitations had expired, Tyson said.
Earlier this week, prosecutors dropped more charges dealing with one of the 15 alleged victims, leaving the number of alleged victims at 14, he said.
Prosecutors denied that the reason they dropped the charges regarding the 15th victim was a lawsuit the man filed against an attorney representing him in another case, CNN affiliate WKRG reported. In that suit, the man claimed the attorney had threatened him to get him to testify against Thomas.
Chief Assistant District Attorney Nicki Patterson said prosecutors believe the man's allegations against Thomas, but told WKRG that dismissing the charges concerning him was an effort to simplify the trial.
Thomas, 48, has maintained his innocence. "Did you ever think of the fact that this is the only black circuit judge we've ever had in Mobile County, and that the right-wing Republicans have gotten rid of him," defense attorney Robert Clark said to reporters at the time of the first indictment against Thomas.
Clark told CNN in March, "The South hasn't changed all that much," and questioned the credibility of the alleged victims. He pledged to "fight till the last dog falls."
In April, Thomas told CNN affiliate WKRG-TV the allegations against him were false, but that the most important thing for him is to make sure his wife and daughters were taken care of.
"I'm not guilty, and I look forward to being a part of the community that's supported me and I've supported my entire life," Thomas said.
If convicted of the most serious charge against him -- kidnapping, a Class A felony in Alabama -- Thomas could face between 10 and 99 years in prison, Tyson said Wednesday.
Asked in March about defense attorney Clark's allegations of racism, Tyson told CNN, "In this case, as in every case, we try to react to the law and facts, and that's all. Anything else is outside our authority. I can assure anybody that's interested that this is not being pursued for some racial agenda."
Prosecutors are awaiting a decision from the trial judge on whether a psychologist will be allowed to testify about sexual fetishes during the trial, WKRG-TV reported.
Thomas resigned from the bench in October 2007, just before he was scheduled to stand trial before the Alabama Court of the Judiciary on multiple ethics violations charges. The complaint, dismissed after Thomas' resignation, accused him of "extrajudiciary personal contact" with some defendants but does not refer to any sexual contact.
The Alabama State Bar suspended Thomas' law license in March following the first indictment.
The newest indictment, posted on the Web site of the Mobile Press-Register newspaper, has the names of the alleged victims blacked out. Both it and the initial indictment reference Thomas allegedly forcing victims to expose their buttocks and striking them with a belt or paddle.
During Thomas' judgeship, he had a storage room furnished like an office near his eighth-floor chamber at Mobile's Government Plaza, the Press-Register said. Several criminal defendants have alleged, in affidavits and in court, that Thomas asked to paddle their buttocks in the room, and some said he suggested sexual encounters there, according to the newspaper.
Citing a state forensics report, the newspaper reported in April that a semen stain found on carpeting in the room matched one of the nine alleged victims from the first indictment.
All Mobile County circuit judges recused themselves from Thomas' case, a standard move in cases involving another judge, Tyson said. The Alabama Supreme Court appointed retired Marengo County Judge Claud Neilson to hear the case.
On March 9, another Mobile County circuit judge barred Thomas from his courtroom. Judge Joseph S. "Rusty" Johnston wrote in an order that during Thomas' tenure on the bench, he "used his office to threaten criminal defendants with jail time, penitentiary time and probation revocations if they did not engage in sexual acts with him."
Johnston attached to the order, under seal, a disc "containing the interviews of 3 criminal defendants who were subjected to the treatment described above," the order said.
Clark appealed Johnston's order to the Alabama Supreme Court. In April, the court refused to overturn Johnston's order, according to WKRG-TV. Also in April, a panel from the Alabama State Bar's Disciplinary Commission upheld its decision to suspend Thomas' license, despite his denying under oath all of the allegations in the initial indictment, the station reported.
E-mail to a friend

All About Mobile (Alabama) • Alabama Supreme Court