CHICAGO, Illinois (CNN) -- Authorities arrested a man accused of secretly taping ESPN sports reporter Erin Andrews in the nude and posting the videos on the Internet, the FBI said Friday.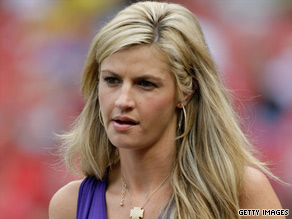 ESPN reporter Erin Andrews claims someone videotaped her while she was nude and posted video online.
Authorities arrested 48-year-old Michael David Barrett at Chicago O'Hare International Airport on Friday. Barrett faces a charge of interstate stalking, the FBI said.
Barrett is accused of taping Andrews while she was nude in two hotel rooms. He then made eight videos that he posted on the Internet, the FBI said.
Barrett allegedly filmed seven of the eight videos at a hotel room in Nashville, Tennessee, in September 2008. FBI agents said they found evidence that a peephole to the door of Andrews' hotel room had been altered.
The FBI learned that Barrett checked into the same hotel at that time and asked for a room adjacent to Andrews using his home address to register for the room.
According to a criminal complaint, Barrett tried to sell the videos to celebrity gossip Web site TMZ.com. Employees at the Web site also helped in the investigation providing Barrett's information to Andrews' attorney.
Andrews works as a sideline reporter traveling around the country covering college football games.
Barrett will have his first court appearance in Chicago at 10 a.m. (11 a.m. ET) Saturday, authorities said.
The maximum penalty for the charge of interstate stalking is five years in federal prison, the FBI said.
E-mail to a friend

CNN's Greg Morrison contributed to this report.
All About Erin Andrews