By Dan Simon
CNN





OAKLEY, California (CNN) -- The black box sat inside a cabinet. Philip Garrido had given it to a friend for safekeeping, and that's where the friend kept it.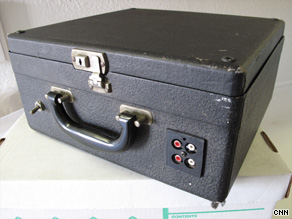 The black box has jacks for plugging in headphones. Philip Garrido claimed it could speak his thoughts.
"He feels he can speak to you and me and everyone else using this box," said Garrido's friend and former business client, who spoke on condition of anonymity.
"He was a whack job, but he was a whack job who sounded like he had a really good heart," the friend added.
Garrido and his wife, Nancy, were arrested last month and charged on more than two dozen counts, including kidnapping and rape.
Authorities say the Garridos held Jaycee Dugard, 29, captive for nearly two decades in their backyard. Both have pleaded not guilty. Authorities have said Garrido, a registered sex offender, fathered Dugard's two children.
A few days before his arrest, Garrido delivered some documents touting the device to the FBI.
The black box is simple, with a handle, a metal switch and jacks for plugging in headphones. But it provides some insight into the mind of 58-year-old Garrido.
Garrido told his friend and customers of his printing business that the box allowed him to communicate without speaking.
"He would move his lips and not speak ... and you would be able to hear his voice through the headphones," the friend said.
Anderson Cooper 360
What is the mystery behind Philip Garrido's black box? AC 360 investigates.
Tonight, 10 p.m. ET

Three years ago, Garrido demonstrated the box for clients of his printing business. The clients, some of them at least, went along with his claims for the device.
"I didn't want to tell him you're a kook and you don't know what you're talking about," said Tim Allen, who owns a glass shop in Antioch.
Even so, Allen and several other former Garrido clients signed declarations saying the device worked.
"People believe in things. I didn't think it was my place to shoot him down," Allen said.
Garrido so believed in the power of his invention that he wanted to have the device patented, so he solicited the help of a private investigator last year.
"He was speaking normal, dressed normal, acting normal," said Ralph Hernandez, who spent 30 years in law enforcement before becoming an independent private investigator.
Hernandez said he agreed to help Garrido verify the testimonials that the product actually worked, but he never saw the box. Garrido told him it would be best if he didn't, the investigator said.
Hernandez said he provided all the requested information to Garrido.
"This was like the last part before he would take whatever he had had to a lawyer to prepare for patenting," Hernandez said.
Documents obtained by CNN include a news release that Garrido produced:
"A Bay area man has made a major discovery concerning the phenomenon of voice," the release says, accompanied by a photograph of Garrido. Read the news release
Though it's not known whether Garrido hired a patent attorney, there's no record at the U.S. Patent and Trademark Office of a patent application or a patent granted to him. But 48 hours before he was arrested, Garrido gave the device to his friend for safekeeping.
"I can only guess that he knew something bad was going to happen,'' he said.
Meanwhile, investigators will begin excavating part of the Garridos' California property Monday afternoon after two sheriff's dogs trained to find human remains alerted authorities of possible buried bones, officials said.
The search is in the same area as a canine alert last week, said Lt. Chris Orrey of the Hayward, California, police department. Ground-penetrating radar also found an "anomaly" in that area, Orrey said Monday.
Investigators have already found bone fragments at the property in unincorporated Contra Costa County but have not said whether they are human.
E-mail to a friend

All About Kidnapping • Phillip Garrido