(CNN) -- A legally insane killer was on the loose in the state of Washington on Saturday, two days after he escaped during a field trip to a county fair, authorities said.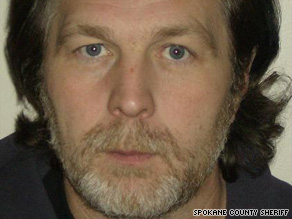 Authorities are combing Washington state for Phillip Paul, who is described as a criminally insane killer.
Phillip Paul was able to elude a massive manhunt in Spokane County, Washington, after escaping Thursday, a spokesman for the sheriff's department said.
Though Paul had been confined in a mental institution because of a murder confession, he was allowed to be part of a trip to a county fair Thursday.
Paul, 47, escaped from the fair around noon, which launched the massive manhunt and brought criticism from many, including state government officials. Sheriff's officials told CNN affiliate KREM-TV that Paul also escaped briefly in 1991 and assaulted a law enforcement officer.
Sgt. Dave Reagan told CNN that Paul was carrying a backpack full with clothing, leading authorities to believe he may have planned his escape.
"When he left the hospital on Thursday, it appears he took most of his clothing, so we now have an idea of what was in the backpack when he escaped at the fairgrounds," Reagan said.
"This may be a case of planned escape rather than a spur-of-the-moment, I'm homesick, runaway," he said.
Eleven hospital employees were monitoring the 33 inmates, including Paul, on the trip, Reagan said.
A review has been launched on the incident and on the policy that allows patients to take trips, said Susan Dreyfus, secretary of the state's Department of Social and Health Services. She said she was concerned about Paul's escape and another recent brief escape by a patient at a different local mental health facility.
"These incidents, separate and coincidental, have raised serious questions about the security readiness of our two state psychiatric hospitals," Dreyfus said.
Paul was committed to Eastern State Hospital after admitting he strangled and slit the throat of community activist Ruth Motley in 1987, KREM-TV reported. According to court documents obtained by KREM, Paul believed Motley was a witch and killed her in response to voices in his head.
He subsequently burned a deer carcass as a sacrifice, according the documents.
The extent of Paul's illness was disturbing even to mental health professionals, KREM reported.
"He's the only paranoid schizophrenic -- I've seen hundreds, maybe thousands of them -- that frightened me," Dr. Frank Hardy, a licensed psychiatrist, said in one of the documents, according to KREM. "The first time I took one look at him -- and I've never done this before or since -- I asked the jailer to remain in the room while I examined him.
"I believe he would respond to his delusions and his voices again" if released, Hardy wrote.
But Paul "Coyote" Neumann, a disc jockey at Spokane radio station Kix 96-FM, has an entirely different view of the escapee. Neumann has known Paul for 12 years through volunteering at the hospital and correspondence by mail.
Paul is a talented artist, Neumann told KREM-TV.
"I was just amazed by his ability. I always took him as a savant," Neumann said. "I never knew that he had murdered somebody until three or four or five years later."
Neumann described Paul as a "gentle soul."
"I've never seen him raise his voice; I've never seen him get frustrated; I've never seen nothing but kindness from him," he told KREM.
"I get mixed emotions because I do see the sweet, softer side of this individual, but I've never seen him unsupervised, I've never seen him not medicated," Neumann said. "But that's not to say in another 12, 15, 20 hours without those medications that he doesn't revert to those demons."
E-mail to a friend

All About Spokane • Psychotic Disorders • Murder and Homicide